Born again - a caravan restoration project
Born again - a caravan restoration project
Lee Davey tells us how he brought a forlorn 1967 Bailey Maestro back to life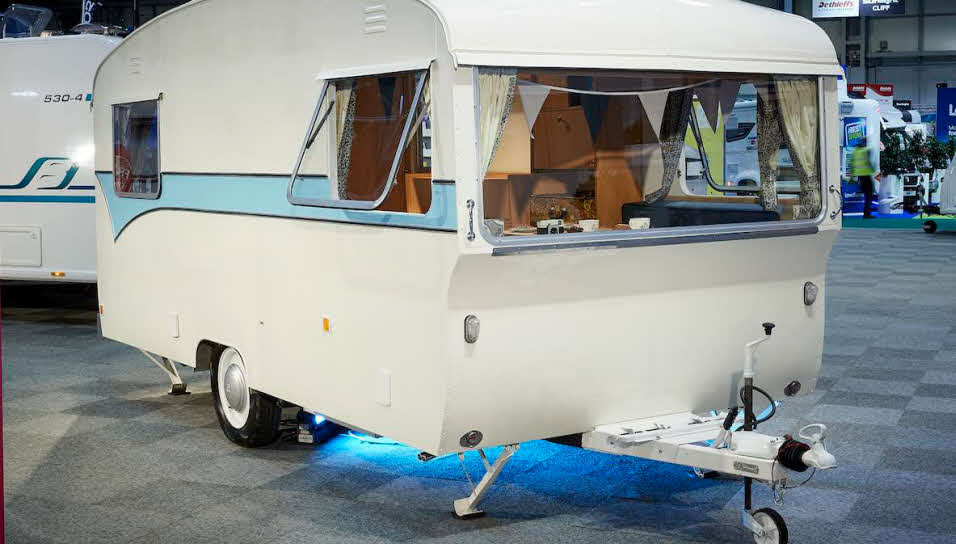 A restored 'Gladys' goes on show at the NEC
Storage yards, barns and hedgerows across the country are home to a surprising number of once-loved caravans that haven't enjoyed a holiday in a very long time. Mother Nature may be attempting to reclaim a number of these ancient tourers, cloaking them in brambles, moss and mould – but some are just waiting to be found so they can be returned to their former glory.
Our story began with a search on eBay, where my son, Charlie, and I stumbled across a 1967 Bailey Maestro that had spent the last two decades as part of a hedge. The description and photos did little to boost our confidence, but we were drawn-in by sweeping Sixties bodywork and a desire to see how caravans had changed over the course of 50 years or so. Preparing ourselves for the worst, we clicked the bid button and kept our fingers crossed.
Be realistic
Project caravans have a nemesis: damp. Plenty are advertised as 'dry' but 50-year-old sealants are unlikely to have lasted, so it's worth having realistically low expectations and accepting anything better as a bonus.
Thankfully, traditional constructions featuring aluminium sheeting over a wooden skeleton are relatively easy to work on. The main component parts that we had to consider on our vintage caravan were chassis (including hitch, brakes and wheels), floor, wooden framework, interior (including wallboard, furniture and associated equipment), outer aluminium 'skin' and windows.
Frame
In an ideal world, removing the skin provides access to screws that hold furniture in place against the interior wallboard. However, our 'workshop' was the patio and the aluminium panels had to remain in place to keep the weather out, so a hacksaw was used to cut the screws that secured the cupboards and kitchen. The soggy wallboard was removed so we could assess the extent of the damage.
All four corners were rotten and a section of the roof had fallen victim to a tree. However, the frame was remarkably similar to that of a garden shed, and rudimentary woodwork skills go a long way when working on this type of structure. The key is to work on small areas – such as a corner – at a time, as this helps the caravan retain a degree of strength and therefore its shape.
Exterior
The wooden battens behind the awning rails were removed and replaced, and with fresh woodwork in place, paint, corroded material and rock-hard sealant were painstakingly removed with a wire brush on a drill. With sparkling aluminium to both sides, a modern sealant was applied and new fixings used. Aluminium beads seal exterior joints and these received the same treatment, along with the window frames.
Chassis
Wire brushing the metal chassis rails and repainting with a hardwearing metal barrier paint was important, if not particularly pleasant, and I was able to inspect and replace any wooden rails that ran underneath, along with suspension bushes that showed signs of play.
The braking system was dismantled, inspected and reassembled, with few parts requiring more than basic servicing and maintenance. The hitch was also repainted, re-greased and checked for wear, before being treated to a new damper.
Thankfully, a lot of the suspension and braking systems of the period share components with cars of the era, meaning parts are readily accessible. The ageing tyres were also replaced.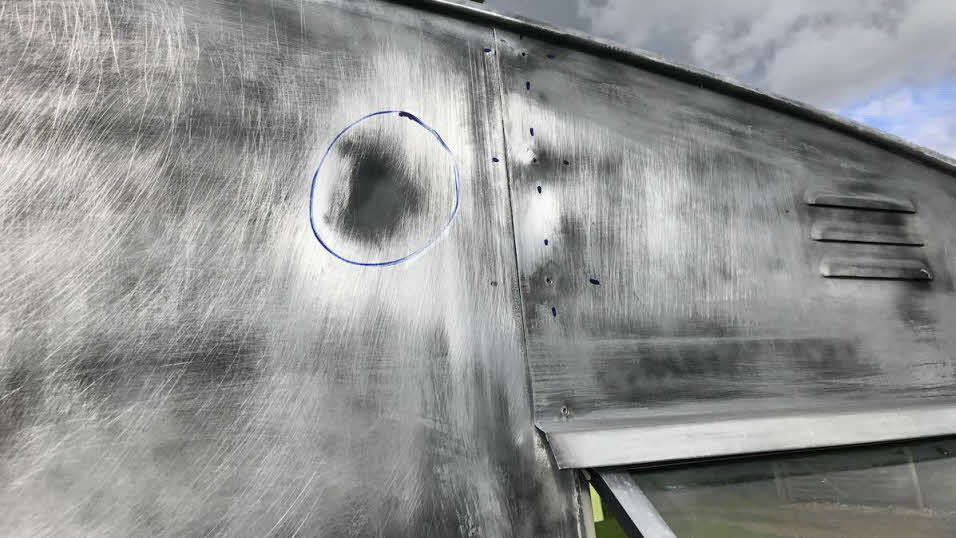 Stripped back to the metal
Paintwork
Bailey, which continues to manufacture caravans at the same Bristol site where our 1967 Maestro began its life, informed me that tourers were hand-painted in coach enamel at that time. Having a caravan sprayed can be incredibly expensive and I'm thankful that keeping things authentic actually kept costs down. All I needed was a YouTube tutorial, a gloss roller and a decent brush to 'lay off' the coach enamel.
We stripped layers of untidy paintwork from the body until fresh metal was found, before etch priming and priming. We practised applying the topcoat on small areas before treating 'Gladys' (as she was now called) to a complete fresh coat of enamel.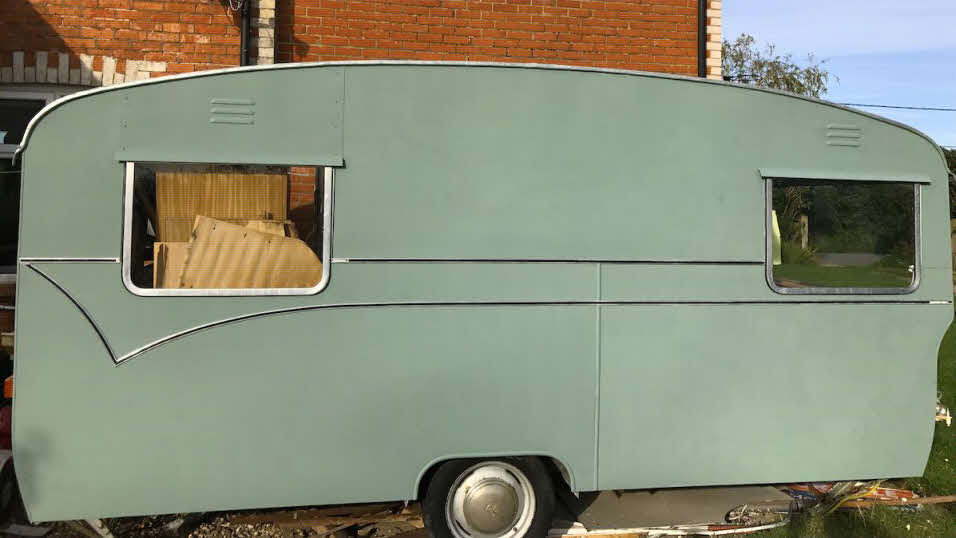 Ready for a fresh coat of enamel
Interior
With new 3mm boards lining the ceiling and walls, and a square of lino covering the floor, the smell of mould was gradually subsiding. My sister-in-law was making new cushions and curtains which gave me time to tackle the fixtures and fittings.
The fallen tree had sadly channelled rainwater into the kitchen, which had taken its toll on this area. However, it's possible to match original woodwork fairly well and we were able to blend new components with those that had been fitted in Bristol in the Sixties.
I thought the interior would be a quick dash to the finish but it proved to be quite a lengthy process which was hindered by a multitude of small, niggly jobs.
The finished article
Time was our biggest outlay, something that we had hugely underestimated. Roofing battens proved cost-effective with 25mm x 50mm lengths cut down the middle, and new 3mm ply came via a builder's merchant.
Such a project can appear intimidating, but split into small, bite-sized chunks, it's a relatively straightforward and immensely satisfying process. If Charlie and I can do it, anyone can!