Cycle route from Stamford Club site
Cycle route from Stamford Club site
A ride through peaceful lanes and pretty villages offering some spectacular views – and a couple of climbs – from Stamford Club site to Rutland Water.
With a bike hire shop virtually on the doorstep and a series of inviting woodland trails close by, there's no excuse for not getting in the saddle during a stay at Stamford Club site.
This route avoids the easy trails of Fineshade Wood and the thrilling but technical mountain bike tracks in neighbouring Wakerley Woods as it heads north over a series of hilly ripples to Rutland Water in a loop that follows quiet lanes through beautiful countryside.
The same honey-coloured limestone that gives the Cotswolds its irresistibly pretty cottages features in many of the villages along the way, where attractive pubs with pretty beer gardens provide welcome places to stop.
The vast expanse of Rutland Water – one of the largest artificial lakes in Europe – lies at around the halfway point, making it an ideal stop for a coffee or picnic. It's well worth following the signs for the short diversion to Normanton Church, which appears to be floating on the water's surface. When the Gwash valley was flooded to create the reservoir, a public outcry saved the church – what's left today is actually the top half of the original building. Its lower level was filled with rubble, topped with concrete to create a new floor, and then the waters were raised.
There's another striking building to visit at Wakerley, where the 12th-century St John the Baptist church sits behind a handsome memorial gate to the fallen of the Great War. Inside there are wonderful ancient stone carvings, as well as some peculiar coloured wooden roof bosses.
This area of Northamptonshire and Rutland has hosted the hugely successful red kite reintroduction programme over the past 15 years, virtually guaranteeing visitors a good view of these stunning, fork-tailed raptors. And if you get lucky at Rutland Water there's a chance to see one of the ospreys that migrate here every summer for the rich pickings of the reservoir's trout.
You can download this route from our dedicated Strava page here.
Directions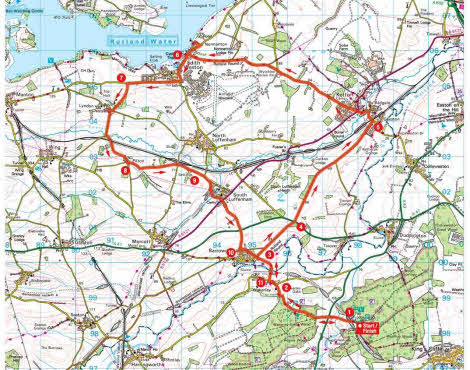 1 From the Club site follow the drive down to the A43 and cross directly over. Continue past the woodland and quarry to a T-junction.
2 2.7km – Turn left at the T-junction, signposted to Wakerley and Harringworth, and in 250m turn right, signposted to Barrowden and Seaton. Continue for 1km to enter Barrowden.
3 3.9km – Immediately after entering Barrowden turn right, signposted to Tixover and Peterborough. Continue for 1.5km to T-junction with A47.
4 5.4km – Turn right along A47 to Tixover and Peterborough, then in 50m turn left along the singletrack Barrowden Road. Take care as the road surface is rough and potholed. Continue along the track to a T-junction with an asphalt road. Turn left and continue to a T-junction in Ketton.
5 9.2km – Turn left at the junction, crossing a railway line with an old signal box. Continue for 600m to a crossroads and go straight ahead, signposted to Empingham and Oakham. Continue for 5km to a T-junction.
6 15.4km – Turn left and in 250m turn right into Normanton car park at Rutland Water. Normanton Church (worth a photo) is along the track to the right, while a café and bike shop are to the left. After visiting Rutland Water return to the car park and take the exit on the right. Turn right towards Edith Weston, then right at the roundabout signposted to Sailing Club and Manton. After 1.5km look out for a turn on the left, opposite a small wind turbine.
7 19.1km – Turn left, signposted to Lyndon Farms and Barns. Continue to a T-junction, turn right to Manton and Oakham, and then in 70m turn left to Wing and Morcott. Continue down the hill to cross a small bridge at the bottom where the road bends 90º right. Turn left, signposted to Pilton and Morcott. Climb the hill to reach Pilton and continue to a crossroads.
8 21.9km – Turn left at the crossroads, signposted to Pilton and Lyndon. Go straight over the next crossroads in 1.5km, signposted to South Luffenham, and continue to a T-junction.
9 24.3km – Turn right at the junction along North Luffenham Road, and follow the road through South Luffenham to a crossroads with The Coach House on the right. Go straight across, following Barrowden Lane. Go straight over the crossroads with the A47 towards Barrowden.
10 26.9km – In the middle of Barrowden turn left, signposted to Village Shop, Wakerley and Peterborough. At the end of the village reach a T-junction and turn left to Wakerley and Fineshade. Cross a bridge over the River Welland, then climb to a T-junction.
11 28.4km – Turn left at the junction, (the same as point 2) signposted to Fineshade and Duddington, then in 250m turn right to Fineshade and Historic Church. Continue along this road, retracing the outward journey, to reach the A43. Cross straight over and climb the hill back to the Club site.
About the route
Start/finish: Stamford Club site, Fineshade, Stamford, Lincolnshire NN17 3BB.
Distance: 19.6m/ 31.4km
Time: 2.5 hours
Level: Suitable for fit cyclists and e-bike riders. There are two or three long, steady climbs, but the roads are very quiet.
Terrain: Apshalt all the way apart from one stretch of about 1km on a rough trail with mud, potholes and gravel. A hybrid bike or e-bike is ideal.
Landscape: Rural grazing pasture and arable fields, with lovely tree-lined roads and far-reaching views. Plus the vast sweep of Rutland Water at halfway.