Auto-Sleeper Fairford Plus
Auto-Sleeper Fairford Plus
Nick Harding weighs up the pros and cons of the revised Auto-Sleeper Fairford Plus which comes on a Peugeot Boxer base and offers a well-equipped kitchen, front lounge and rear double bed.
Those of us familiar with previous incarnations of the Fairford Plus will instantly spot what is new in 2021. Early models offered rear settees that could fold away if you wanted – for some serious load space – and, of course, be converted into a double bed. With this update, the rear bed function is still there, but the seating has gone, creating a more 'continental' floorplan.
When it comes to floorplans, no van conversion manufacturer offers as wide a choice as Auto-Sleeper. From an eight-model line-up, all on Peugeot Boxer bases, five use the extra-long 6.36m (almost 21ft) option like this, so there's still space for plenty of luxury.
BUILD QUALITY – 82%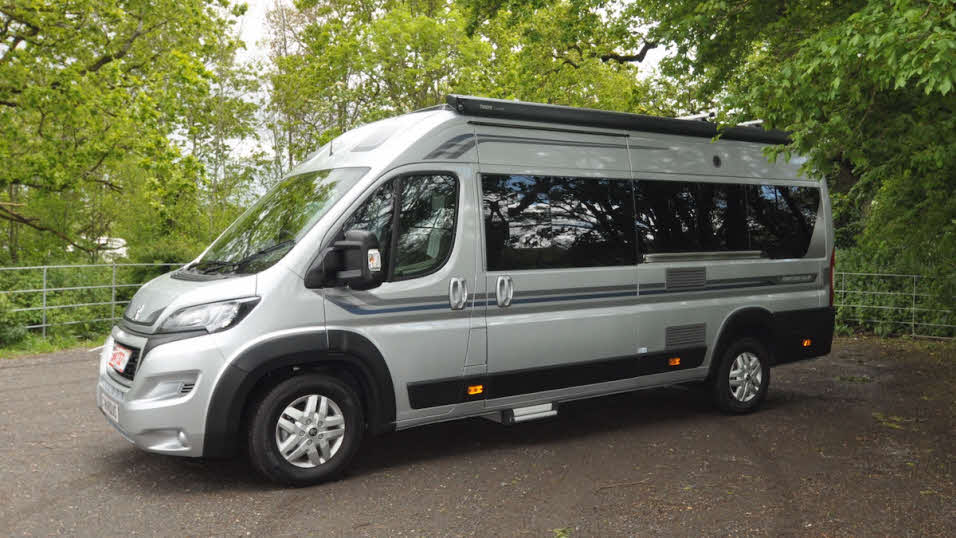 The Boxer base is windowed, hence the presence of bonded, tinted glass rather than the plastic units fitted by other converters.
Despite fresh and waste water tanks of 69 and 40 litres respectively, the Fairford Plus isn't endowed with the greatest of payloads – and any optional extras will eat into what is already a rather tight 389kg. The 'essential' Premium Pack, for instance, immediately consumes some 35kg.
Most of Auto-Sleepers' conversion work is instantly recognisable – for example, the woodwork, the upmarket upholstery and carpet sections. At the back there are removable support bars for the metal framework of the bed, setting it at a height that should mean easy access for most folk. Storage underneath is also accessible via the twin rear doors. There are floor-level side lockers here too – four in total.
Also included on the Fairford Plus is the Thule Pack (£595 on sister models), which includes the wind-out awning over the rear doors as well as load-bearing roof rails.
DRIVING – 77%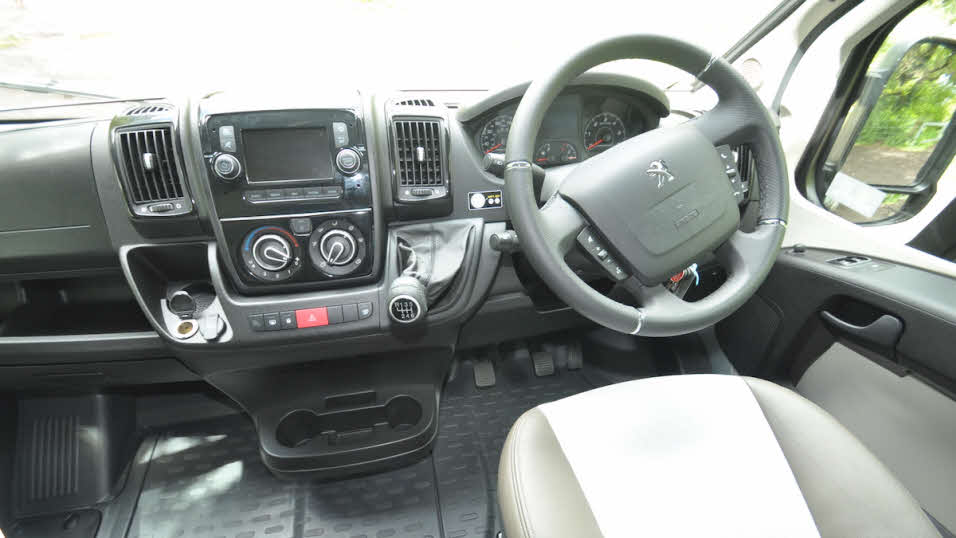 The standard 165bhp diesel engine currently offered by Auto-Sleepers packs a decent enough punch. It's allied to a six-speed manual gearbox. You can instead opt for automatic, which entails a switch to Fiat's Ducato. As standard, it's pleasant enough to drive, the extra rear leaf spring making a difference to the ride, helping soften the effects of deep potholes, for example. I still reckon careful drivers (as all Club members are, of course) will get 30 miles to the gallon in a vehicle like this.
DAYTIME – 77%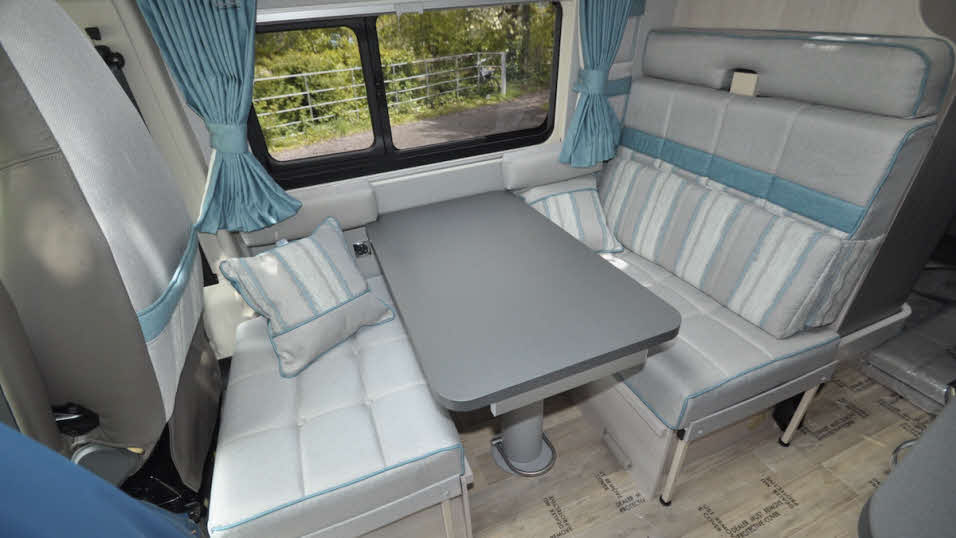 With the rear of the van performing bed and storage duty, all the seating is at the front: a double dinette behind the driver, along with the usual swivel operation for the front passenger seat. The driver's seat acts as the backrest to the forward dinette section; you just need to adjust its angle to suit – quite a neat solution. The dinette bases can also be extended sideways, but you might feel they impinge on space. Nice to have the choice, of course.
The table is on a fixed pedestal leg with full height, as well as fore and aft, adjustment. There's also an extension section should you want it.
A quick word about storage. Auto-Sleepers really scores here thanks to underfloor tanks for fresh water, waste water and gas (25 litres). The main parts of the Whale heating and hot water systems are also fitted underfloor – again freeing up vital interior space.
NIGHT-TIME – 72%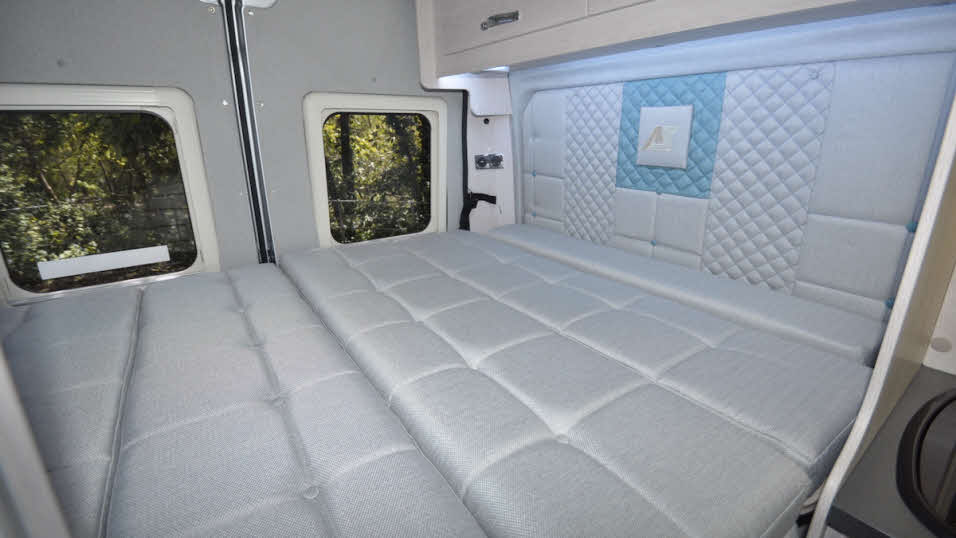 Technically, this is a four-berth, with that rear travel seat taking two more passengers and the lounge designed to become a second double bed. Note that the extra cushions provided for the bed do eat into the available storage, so if you're not going to use them it's probably best to leave them at home. At its maximum, the bed measures some 1.94m x 1.34m; alternatively, without the extra cushions you can still make a decent single from the seating.
The rear bed is 1.35m at its widest, narrowing to 1.24m, with an absolute maximum length of 1.87m, according to my tape measure. Note that, if in use, the fabric storage pockets at the foot end could shorten this slightly. And while the memory foam mattress may look a bit insubstantial, it's altogether more comfortable and supportive than it might seem.
Only the plastic step for bed access seems a bit of an afterthought. You can, however, also use it for access into the van via the twin rear doors.
KITCHEN – 78%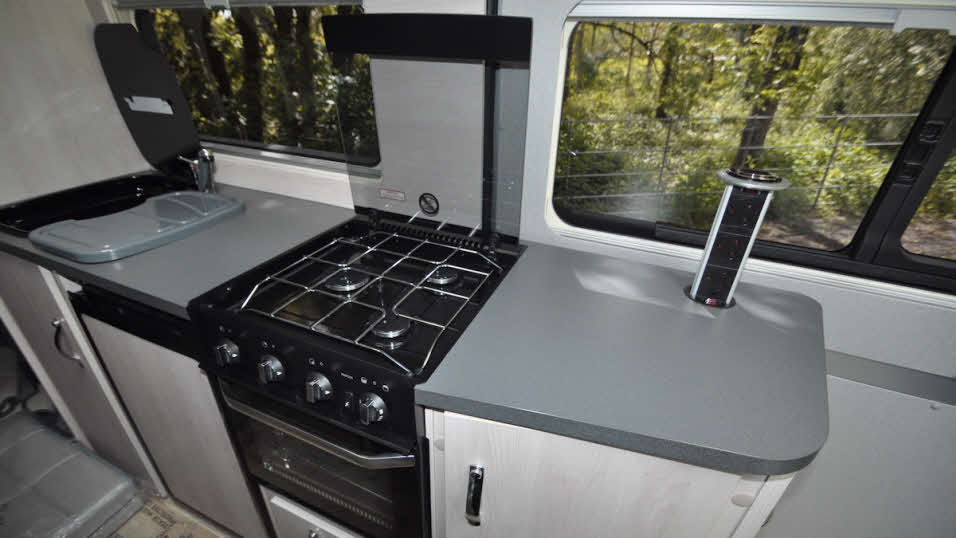 This is definitely one of the better kitchens you'll find in a van conversion. It is well equipped, boasting permanent worktop space either side of the cooker and good storage. There's a double overhead locker, a large locker to the right of the cooker and a floor locker under the oven. One downside: the fridge is only standard size: a Thetford 81-litre model with full-width freezer compartment.
That cooker is a Thetford Triplex with three-ring hob and oven/grill combination, and there is a Dometic microwave oven. The sink, in black enamel, has the usual Auto-Sleeper add-on plastic drainer and cutlery drying rack (fitted to the underside of its glass cover). A Dometic extractor over the hob helps compensate for the relative lack of opening windows.
A pop-up three-gang mains socket on the kitchen worktop is sure to prove popular.
WASHROOM – 73%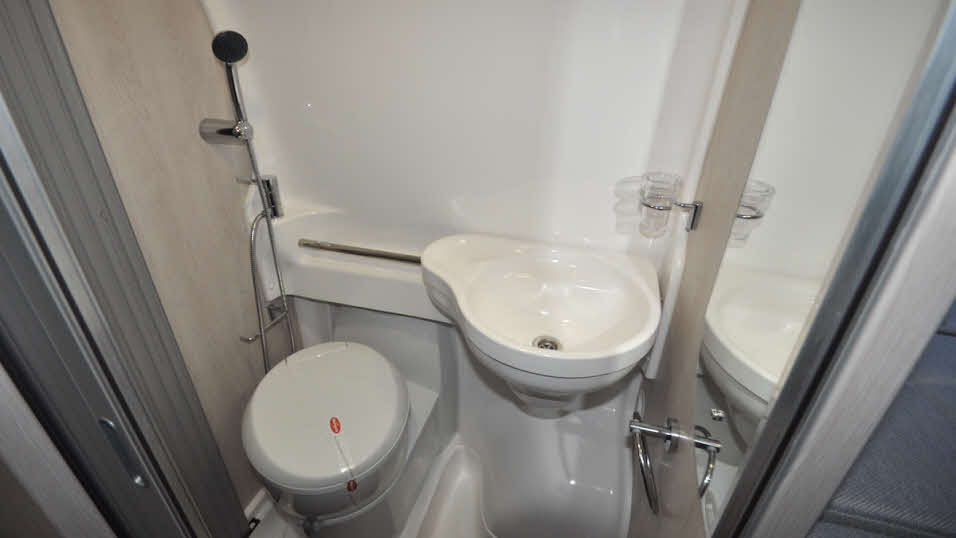 The sliding washbasin is a simple-but-clever piece of design work – it can be pushed out of the way when you want to optimise space for showering. The main tambour door is a space-saver, too.
There's no window – just a small vent in the roof over the shower area – but you do get a very handy fixed rail, which is ideal for hanging wet clothing, etc.
The swivel-bowl toilet is set high, while the hand-held shower also doubles as the tap for the basin. The bathroom mirror is a good size, however, there is a complete lack of locker storage. You get towel and toilet roll holders, and a toothbrush mug, but you will need to think things through when it comes to shower time.
DETAILS – 82%
There are some nice touches in this Auto-Sleeper. The push-button action on the locker doors is pleasingly easy to use, for example, and the adjustability of the paddle lights on rails over the settee makes them great for reading by.
There are two mains sockets and a USB port in the lounge, as well as a mains outlet in the rear storage zone. Plus there are television sockets over the sliding door and at the very back (possibly for watching in bed, though this might be tricky).
Look out for concertina blinds and flyscreens to all windows aft of the cab (even those that are non- opening). Hardware is installed for Wi-Fi and there's also a 60Ah lithium leisure battery linked to a solar panel. Cab kit extends to a touchscreen 'infotainment' system with sat-nav and a tyre pressure monitoring system, contributing to a highly impressive overall specification.
For the furnishings you get some great choices, too: three metallic paints (or just plain white) and nine fabrics. If you're considering holding off for a later 2022 model, do note there will be a new, two-tone grey upholstery offering (it looks better than it sounds). Also, all new cabs will be fitted with a Zenec 'infotainment' system with an 8in touchscreen.
VERDICT – 77%
A luxurious vehicle with lots of versatility. You'll buy it because you like the flexibility of that rear section, where you can leave the transverse double bed in situ or fold it back for luggage carrying.
More like this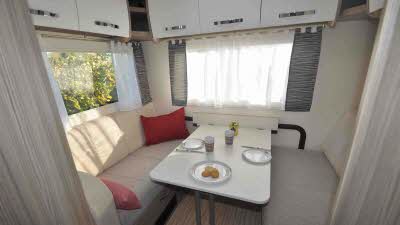 By Nick Harding
04/01/2019
Nick Harding checks out a competitively priced option from Spanish brand Benimar