Extra Lengths
Nick Harding tries out the Auto-Sleeper Warwick XL for size
Auto-Sleepers' Warwick has certainly passed the test of time. The roomier version, the Warwick XL, took to the road in 2014 and it's been one of Auto-Sleepers' bestsellers ever since.
This example, as with all current Warwick XLs, is fitted with the Premium Pack (£2,500) and Winter Pack (£295) options. Recent hikes, especially in the price of base vehicles, sees this model on the road at £71,495. It's a two-berth that tops an eight-model line-up of Peugeot Boxer-based van conversions for 2022. At almost 21 feet long, it's still a lot of van conversion for your money.
BUILD QUALITY - 80%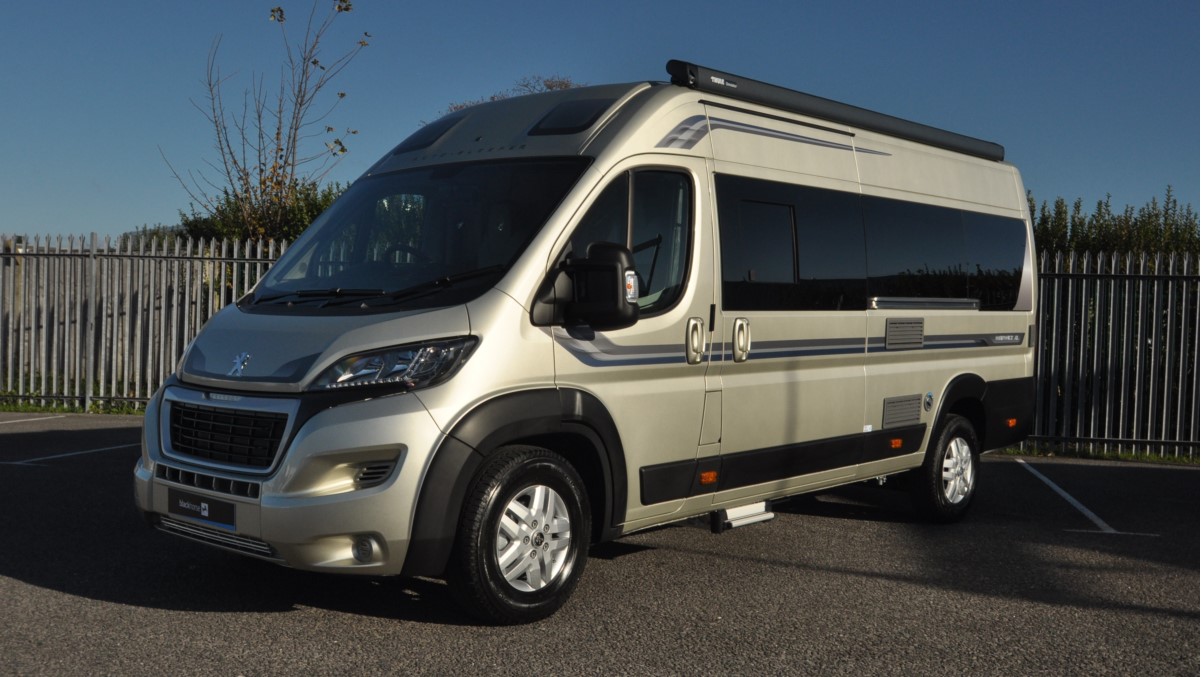 As ever, Auto-Sleepers uses the windowed version of the Peugeot Boxer base vehicle (other converters go for the van and cut the window holes themselves), which makes for a more automotive look. If you want the automatic transmission option (currently, over a third of buyers do), which uses Fiat's Ducato base, you'll need to pay a hefty price premium.
Despite the high overall level of specification even in standard trim, there is a 400kg-plus payload that should be sufficient for most couples. Truma air-conditioning and a Teleco Media Pack are two heavier options to consider, at £1,000 apiece.
The aforementioned Premium Pack includes external fittings like the awning, alloy wheels and a solar panel, while the Winter Pack – another 'default' option – includes rear wheel arch insulation as well as fresh and waste water tank heating.
DRIVING - 78%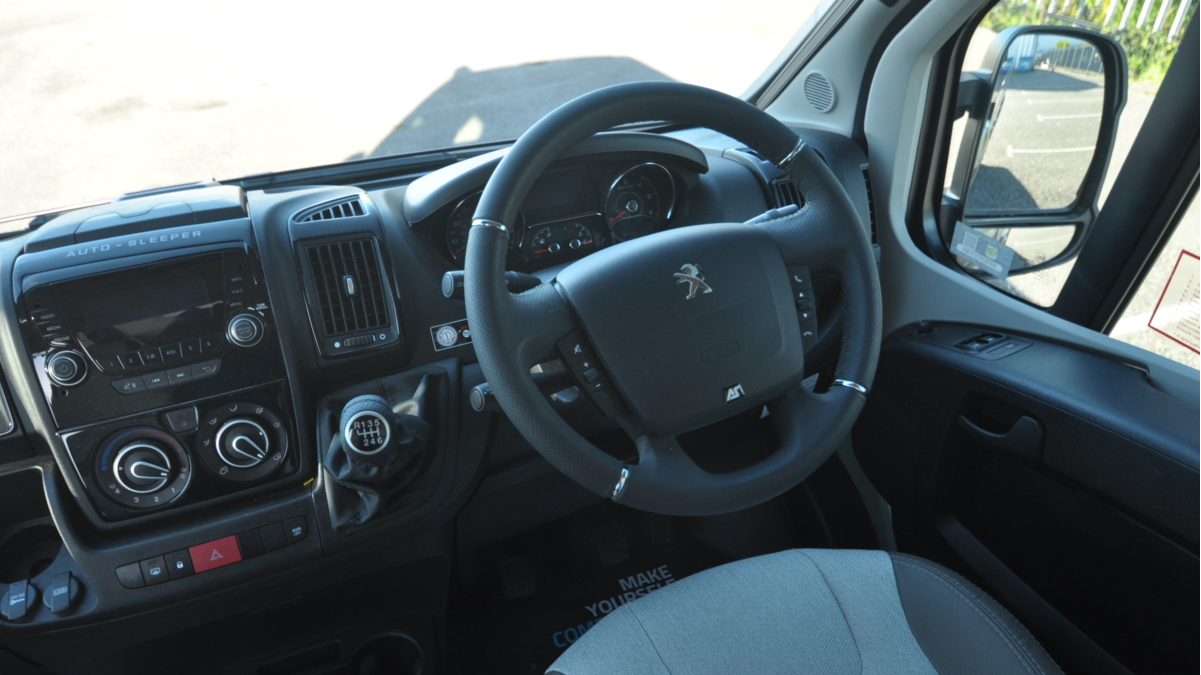 The 2.2-litre, 165bhp engine that Auto-Sleepers insists on for all its Peugeot Boxer van bases is a pretty meaty power plant. It also makes for some relaxed driving, and I suspect most Club members will have little difficulty beating 30mpg in terms of economy.
You also get a comfortable ride because Auto-Sleepers base vehicles have a second rear leaf spring. Plus, the latest Warwick XLs come with Glide-Rite semi-air suspension (another Premium Pack component) so you can adjust the ride settings to your own preferences.
The cab seats now come with twin armrests and, although this example has Peugeot's own integrated DAB radio/sat-nav/Bluetooth stereo system with rear-view monitoring, future models will boast a Zenec unit that performs similar functions, with a large touchscreen.
DAYTIME - 75%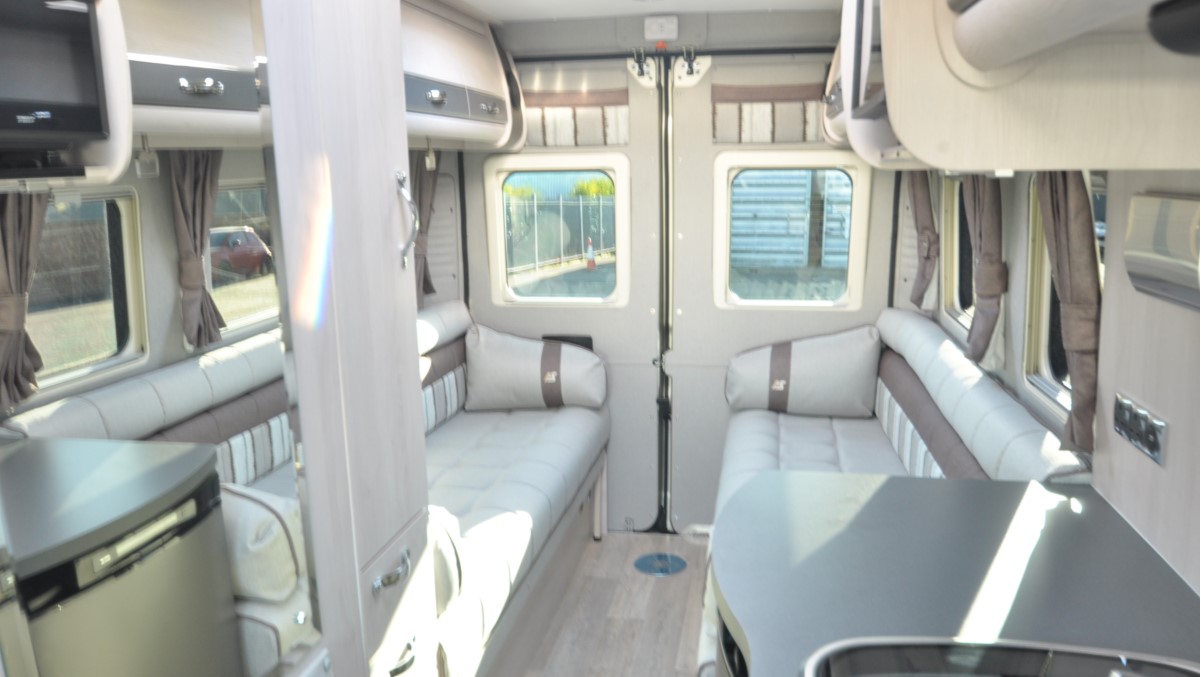 That rear lounge is where it's nearly all at. The inward-facing settees are over 6ft long, and make use of Reflex foam for firm, durable support. There's a choice of two tables – the main, freestanding one packs away in the overcab space for travel; or there's a smaller top that sits on a pedestal leg (both of the latter stow in the wardrobe).
You'll find a decent array of storage options, too. The settee bases are relatively clutter-free thanks to the underfloor fittings of the Whale heating and hot water systems, as well as the gas tank – items that would take up a serious amount of space on-board.
If you think the fresh and waste water tank capacities are a bit on the small side – they're 69 and 40 litres respectively – do note they're also underslung and have appropriate insulation and heating.
Meanwhile, at the front, the extended cab floor means you can swivel the passenger seat and your legs aren't left dangling. Indeed, you can also rotate the driver's seat, although, like the flyscreens for the fixed side windows, I'm not sure how necessary this is.
On-board Wi-Fi is one of a few recent upgrades designed to keep the Warwick XL up with the times. Despite the presence of extra speakers over the lounge area, I'd be tempted to add a smart speaker that could be turned off remotely.
Also worth noting are Auto-Sleepers' 13 soft furnishings options. Here's it's the Mocha Light, one of five colours for the Sagrada pattern. Also available are the stripy Catalan (three variants) and floral Casa Mila (five).
NIGHT-TIME - 80%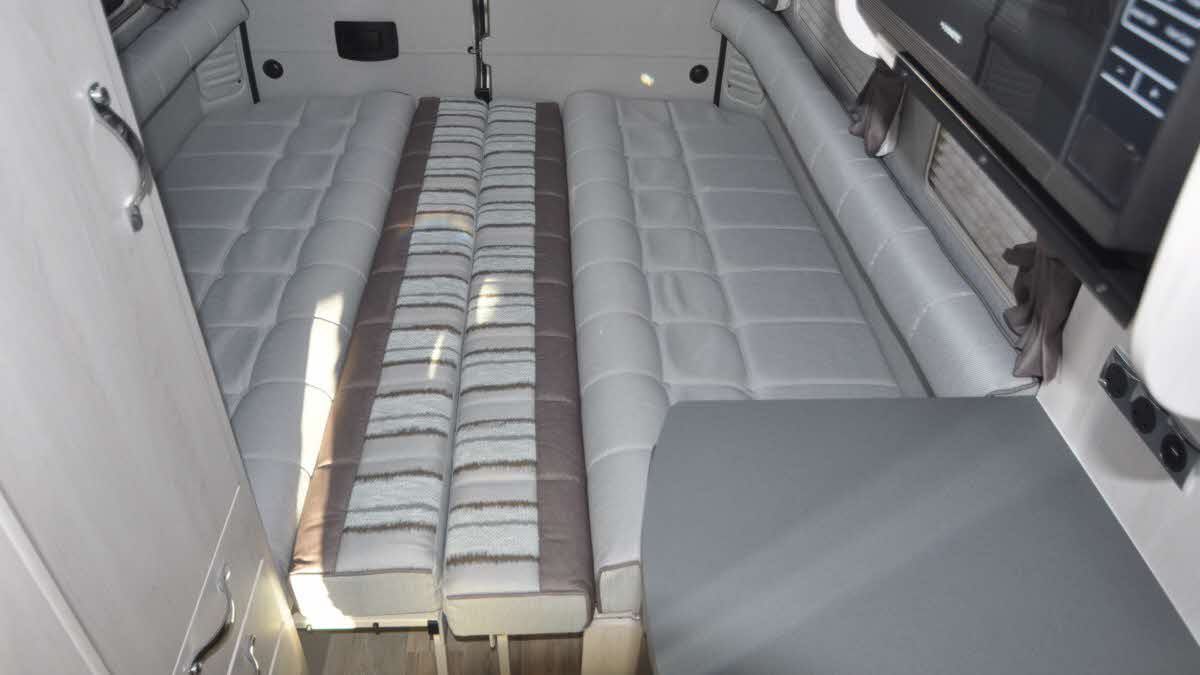 The single beds are a decent-enough size at 6ft 3in x 2ft 4in, but I suspect the 6ft 2in x 6ft 4in double, which makes use of all the seating cushions, will be the preferred sleeping option. It's easy to make up – the two seat bases simply slide together and the backrests slot into place.
You get good night-time blackout thanks to fitted blinds on the cab windows (another perk of the Winter Pack), with lined curtains as well as concertina blinds for the lounge's side windows. Key light switches are easily to hand when you're in bed – apart from the low-level units in the cab floor section, which are controlled by a button inside the sliding door.
KITCHEN - 83%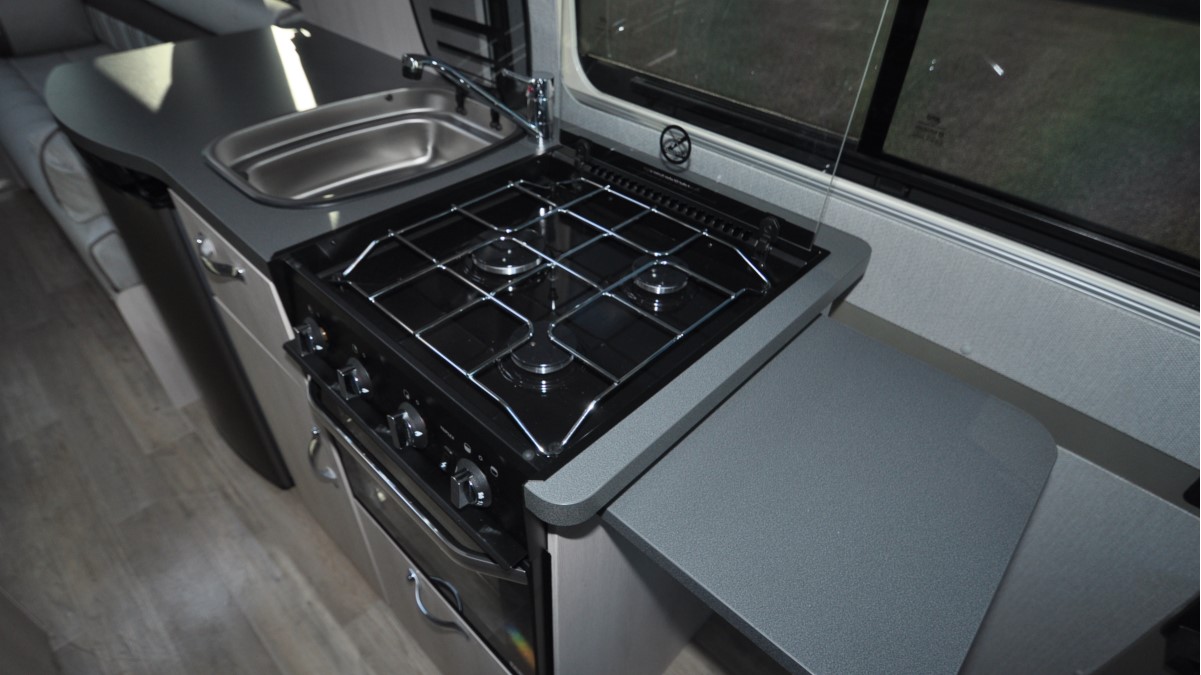 By any stretch of the imagination, this is a well-equipped kitchen for a van conversion. It kicks off with a Thetford Triplex cooker – three-ring gas hob with combined oven and grill – and is supplemented by a Dometic microwave oven. The latter is at the opposite end of the kitchen, set at eye-level height over the fridge – a Thetford 96-litre model which features automatic energy selection.
There's a decent amount of worktop space – permanent and to the left of the sink (where you'll also find mains and USB sockets, plus a kitchen roll holder), while over on the right is a short, flip-up extension. Lighting is in the extractor unit as well as underneath the microwave.
Storage includes a large drawer under the oven, a cutlery drawer immediately below the sink and a shelved locker beneath that. There's a single upper locker, with plate rack.
WASHROOM - 74%
Like the rest of this conversion, the washroom doesn't cry out for equipment. It's almost a room of two halves here. Just inside the door is a swivel-bowl toilet, with an opening window beyond (you'll want to keep the blind drawn), and there's a decently proportioned shower cubicle (which is also home to a fixed handbasin) occupying the rest of the space.
Storage is limited to a couple of chrome racks, and there's just the one shower outlet. But the showerhead is on a riser bar and there's even a toilet brush and holder.
DETAILS - 82%
Creature comforts abound. Touch-sensitive ceiling lights throughout the living area are complemented by fully adjustable paddle-style reading lights on rails under the lounge lockers. Positive locker catches are easy to operate.
The Auto-Sleepers Harmony Utility Management System gives you remote access to the vehicle's on-board functions – lighting, heating, power levels, etc – and the LOCATE app lets you keep an eye on the Sargent Thatcham Cat 6 tracking system (£95 subscription).
External fittings range from the TV aerial to outlets for gas and 230V mains. You even get a melamine crockery set and an all-important set of four wine glasses.
VERDICT - 79%
This van conversion is strictly for two, but well laid out and comprehensively equipped, providing a fair amount of flexibility. There's a lot to like about the Warwick XL.