What are you all up to
Oneputt replied on 13/12/2016 07:57
cyberyacht replied on 14/09/2021 08:53
brue replied on 14/09/2021 09:55
Posted on 14/09/2021 09:55
We've got that CL earmarked too, sounds nice.
Good to hear that DSB has discovered the delights of Englethwaite Hall, it's even better in May when the gardens spring into flower.
TDA, you sounded a bit off course if you got as far as Hawkchurch! Nice to hear you got to Forde Abbey. It's a garden for all seasons but I think the summer is best. I can recommend Minterne Gardens too, near Cerne Abbas, if anyone is in the area, they are different but worth a visit. LINK Also Abbotsbury if you're on the Dorset coast ....another LINK
Hope all the onwards journeys and new places go well for everyone.
We are very busy here with Somerset Arts, by Oct 3rd we will get some time to ourselves (except we are going over to Selworthy near Porlock for a day next week to meet friends and one night seeing Bournemouth Symphony Orchestra...Vaughan Williams, Lark Ascending is the main event. First time out in a theatre venue, I see all the side and back tickets have been booked, not sure if the centre will fill up?!
1 person likes this
brue replied on 14/09/2021 10:00
DSB replied on 14/09/2021 13:11
Posted on 14/09/2021 10:00 by brue

Oh goodness, just seen the photos DSB, has it turned into Gnome World up there?!
Wherenext replied on 14/09/2021 18:03
Posted on 14/09/2021 18:03
We'll be off to Abbotsbury later in the week Brue. There's a nice walk we did last time we were there that takes you to the castle on the ridge and then drops down to Chesil Beach and finally calls in at Catherines Chapel. We'll do that again before calling in to the gardens themselves.
Had an easier day today. Couldn't do much for most of the morning as it was raining but made our way to Radipole Lake to do a spot of birdwatching and then on to Tesco for a shop. Gosh the shelves were sparse at what is a large Tesco. Worst I've seen this holiday. Have to find somewhere else for my specialist bread.
It looks like we'll be having a bike ride tomorrow from Blandford Forum to Sturminster Newton on an old railway line off road bike track so I'll pop into somewhere whilst up there.
Plagued with flies at the moment.🪰😡
1 person likes this
brue replied on 14/09/2021 19:02
Posted on 14/09/2021 19:02
Had to think where the castle was WN, then remembered the hill fort! Hardy's Monument has another good view point, hope you enjoy your visit.
The Sturminster Mill on the Stour is very attractive if it's open, but I don't expect their produce is GF. (Mill LINK)
Flies are everywhere just now, must be the humid weather.
nelliethehooker replied on 14/09/2021 21:38
Posted on 14/09/2021 21:38
After rain in the night we woke to a thick mist which has hung about most of the day, although we did have a little late evening sunshine. Drove over to Charterhouse and had a decent walk through the lead mine workings then up onto Black Down and back up Velvet Bottom nature reserve. Not many people about, 7 in total during our 3.5 hrs out until we got back to the car and there was a school party doing a survey among the remnants of one of the lead mines.
Love the photos, David. We like the Englethwaite site too.
Brue, hope your visits go to plan and hope you don't end up with more than you go with.
1 person likes this
RedKite replied on 15/09/2021 10:03
Posted on 15/09/2021 10:03
Sounds like folks are having a good time whilst away, NTH I remember doing a butterfly survey at Velvet Bottom reserve a few ago.
Well they did forecast a storm and we had it overnight so far on the weather gauge we have had 95.8mm of rain and more forecast for today the thunder was an awful sound it does seem different here compared to where we lived in Somerset and where our friends live they overlook a valley and it sounds a lot noisier there and she hates thunderstorms, they had a full house last night of Americans and very demanding so glad they have gone off on the walk today, I think they have got a break from guests now as they have friends from UK here.
No gardening here today so ill have to find other chores to do.
We are going away to Obterre for 8 nights from 2nd October and having a couple of nights on the way up so looking forward to getting away at last as our plans to go away this month are now cancelled due to other things to do and the weather for the rest of this month do not look good.
Goldie146 replied on 15/09/2021 10:05
Posted on 15/09/2021 10:05
A week ago today the weather was glorious - not just warm, but hot and sunny. Perfect for our day as V.I.P.s at Westmorland Show. By 08:00 we were at the Showground in our best President and President's Wife clothes. We had hats to keep the sun off and golf buggies to drive us round. A wonderful day.
For the first time the Show was held over two days, so that meant two outfits. I only took a couple of photos, but lots were taken of us admiring exhibits etc. And talking to the royal visitors. We'll get to see them in due course.
This week is very much back to normal. Many mouths to feed. Grass to mow. Meetings on farm and elsewhere. And alarm set for 05:00. We did change it for the show days (to 04:30 - my husband had to milk before donning his posh clothes).
A few photos of us - and apologies if I posted them last week. Last week is all a blur and I'm not sure what I did!
Gallery
4 people like this
RedKite replied on 15/09/2021 11:14
Posted on 15/09/2021 11:14
Great photos Goldie were you not sure about the hat in the last photo?
When I lived in Shropshire as a youngster I used to help up the lane from us with milking especially weekends and school holidays so know about early starts and only having a few of the old style milking machines which I used to be able to put together and the hay used to be raked by hand with the old wooden rakes, memories but I used to enjoy it as mum used to be a home help so she would be out early and walk to her ladies as she called them.
1 person likes this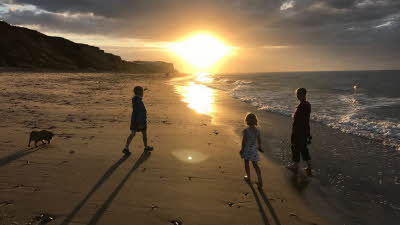 Image: Cromer beach, near Seacroft Club Campsite, Photo by Julie and Lee Weatherill
Find late availability on our UK Club campsites over the next 21 days!