Caravan and Motorhome Club launches its 2020 driving courses Plus, the Club announces new B+E licence training course
13/02/2020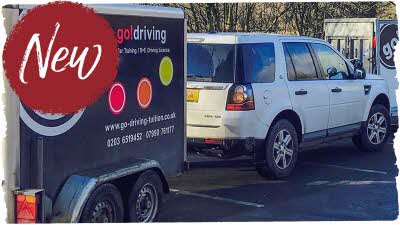 The Club has over 40 years' experience running training courses that have been designed specifically to give tourers additional peace of mind before they head off on their adventure. Running from February to October, each training course provides helpful safety instructions and techniques.
Sessions include:
- Manoeuvring advice
- Hitching and towing safely
- Straightforward safety checks
- Understanding the laws that affect caravanning and motorhoming
- Practice in manoeuvring an outfit forwards and backwards
- Understanding loading and how it affects towing
The training courses are split into: Practical Caravanning; Caravan Manoeuvring; and Motorhome Manoeuvring. The caravan and motorhome manoeuvring courses both take under seven hours, whilst the Practical Caravan Manoeuvring course for people who are completely new to caravanning is completed within 10 hours split over two days.
The Practical Caravanning Course was devised in co-operation with the Road Transport Industry Training Board. Each training centre is staffed by expert instructors and the courses are designed to be as enjoyable as they are informative.
Harvey Alexander, director of marketing at the Caravan and Motorhome Club said; "We are delighted to be able to offer these important courses to tourers. The courses provide excellent value for money and mean that people have the confidence to relax and enjoy their touring adventure with real peace of mind."
The courses are priced as follows:
- Practical Caravanning Course - £185.00
- Caravan Manoeuvring Course - £155.00
- Motorhome Manoeuvring Course - £185.00
Participants also benefit from the opportunity to save five percent on Club caravan cover, motorhome insurance and car insurance for a new policy or at the next renewal - evidence of course completion is required. They also receive the Club's Essential Guide to Touring for Free, which is jam-packed with plenty of useful information and normally costs £16.00.
The Club is also delighted to launch its B+E training course in partnership with Go! Driving. A category B+E driving licence entitles drivers to tow trailers with a maximum authorised mass of 3.5t, providing the gross train weight (vehicle, trailer and load combined) is no more than 7t. Taking the B+E test is great for those with a Category B driving licence who passed their test on or after 1 January 1997. These individuals are limited to driving vehicles with up to eight passenger seats and a maximum authorised mass of 3.5t, plus a trailer up to 750kg.
Prices for one-day courses, including the B+E licence test, start at £440 plus VAT for members.
Club members can get these exclusive discounts off B+E training courses:
- £25 off one-day courses
- £50 off two-day courses
- £100 off three-day courses
For more information about the Caravan and Motorhome Club's training courses, please visit www.camc.com/trainingcourses
Ends
Notes to editors
Practical Caravanning, Caravan Manoeuvring and Motorhome Manoeuvring courses operate in the following locations:
Askham Bryan College, Askham Bryan, York
Sparsholt College, Winchester, Hampshire
P Vowles Training, Figheldean, Wiltshire
Evesham College, Evesham, Worcestershire
L-Buster Towing Training School, Hassocks, West Sussex
Diamond Driver Training, Newark, Nottingham
Road Safe Wales, Llanelli, Carmarthenshire
The Duchy College, Stoke Climsland, Cornwall
Dave Hughes Driver Training, Darlington, County Durham
Towing Solutions Macclesfield, Cheshire
Tilston Training, Llay, Wrexham
WSM Training, Lochmaben, Lockerbie
Carole's Driver Training, Market Harborough, Northamptonshire
The B+E Driving License course will operate in the following locations:
Enfield
Heathrow
Nottingham
Sheffield
Keighley
Bolton / Wigan

About the Caravan and Motorhome Club
Champions of the great outdoors – from glamping to touring – the Caravan and Motorhome Club represents the interests of around one million caravan, motorhome, campervan and trailer tent owners across the UK. Founded in 1907, the Caravan and Motorhome Club has a wealth of experience and prides itself on offering great value and high quality campsites for tourers and glampers.
Caravan and Motorhome Club membership is just £54 per year and provides members with access to 2700 quality campsites in the UK and overseas.
The Club offers over 340 campsites across Europe including France, Spain and Germany amongst other destinations. All members can take advantage of expert advice, overseas travel services, great ferry offers, cover and insurance and exclusive member offers and discounts.
The Club offers a choice of glamping accommodation, motorhome hire and tent camping through its Experience Freedom operation, all of which are available to non-members. Caravan and Motorhome Club members receive a 10% discount on glamping and 15% discount on motorhome hire. To find out more about Experience Freedom, visit www.experiencefreedom.co.uk
For further information about becoming a member of the Caravan and Motorhome Club, please visit www.camc.com or call 01342 318 813.
Media Contacts:
For press information and imagery, please contact Molly Downes, Zoe Poulton or Helen Coop at Four Travel: camc@fourcommunications.com / +44(0) 203 697 4200
Nikki Nichol, external communications and sponsorship manager at the Caravan and Motorhome Club is available on 01342 336 797 / 07771 834 443 or via email: nikki.nichol@camc.com