Club's Director General elected onto the FIA Region 1 Management Council
12/09/2017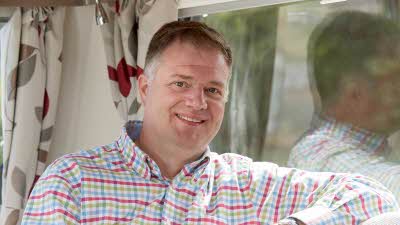 In addition to the FIA position, Nick has also recently been appointed to the board of the Tourism Alliance. Both positions help reinforce the Caravan and Motorhome Club's market leading position as Europe's premier touring organisation, representing one million caravanners, motorhomers and trailer tent owners.
With over 700,000 vehicles owned by its members, the Caravan and Motorhome Club promotes safety and sustainability as a priority to its members.
The Fédération Internationale de l'Automobile (FIA) brings together leading national motoring organisations from 141 countries worldwide and is the governing body for world motor sport. The FIA Region I office, based in Brussels, is a consumer body representing 113 Mobility Clubs and their 38 million members from across Europe, the Middle East and Africa.
The Region 1 office is actively involved in road safety, running the FIA Action for Road Safety Campaign. The organisation also lobbies for consumer protection, environmental protection and the promotion of sustainable motoring. The FIA also aims to build up links, support and exchanges of best practise between Member Clubs across Europe, Africa and the Middle East.
Nick Lomas, Director General of the Caravan and Motorhome Club said: "I am delighted and honoured to take on this role with the FIA. At the Caravan and Motorhome Club we take our responsibility very seriously to try and ensure our members' journeys are as safe and as hassle free as possible. Our existing in-depth involvement with the FIA is testament to that fact and I am thrilled to be playing a more active role with this respected organisation."
All Club members receive safety advice in their Club Handbook, with even more provided via the Club website and Magazine. The Caravan and Motorhome Club offers training courses for caravanners and motorhomers and works closely with the industry and road safety community to encourage fitment of new technologies. These initiatives have many benefits including helping to improve safety and ease congestion.
The Club also works with Highways England and is a member of Highways England's National Road Users' Committee and the Towing Safety Working Group. By liaising with the wider road safety community the Caravan and Motorhome Club has the latest understanding of new technical developments and the latest insights into driver behaviour.
Other safety initiatives include being a member of the Parliamentary Advisory Council for Transport Safety, signatories to the European Road Safety Charter and supporters of the UN Decade of Action for Road Safety.
For more information on the Caravan and Motorhome Club, please visit www.camc.com
-Ends-
Notes to editors
About the Caravan and Motorhome Club
Champions of the great outdoors, the Caravan and Motorhome Club represents the interests of over one million caravanners, motorhomers and trailer tent owners across the UK. Founded in 1907, the Caravan and Motorhome Club has 110 years' experience and prides itself on offering great value and high quality sites for caravanners and motorhomers.
Caravan and Motorhome Club membership is just £49 per year and provides members with access to over 200 Club sites and 2,500 privately owned places to stay in the UK. The Club is investing £300,000 upgrading its Wi-Fi service across the network, installing the service to as many sites currently without Wi-Fi as possible.
The Club also offers a choice of 300 sites across Europe including France, Spain and Germany amongst other destinations. All members can take advantage of expert advice, overseas travel services, insurance services and exclusive member offers and discounts. There is no membership requirement for campers who want to pitch up at over 40 Caravan and Motorhome Club sites.
For further information about becoming a member of the Caravan and Motorhome Club please visit www.camc.com or call 01342 318 813.
Media Contacts:
For press information and imagery, please contact Sophie Barnes, Zoe Poulton or Helen Coop at Four Travel: camc@fourcommunications.com / +44(0) 203 697 4200
Nikki Nichol, external communications and sponsorship manager at the Caravan and Motorhome Club is available on 01342 336 797 / 07771 834 443 or via email: nikki.nichol@camc.com