The Caravan and Motorhome Club expands in Dorset with its second UK site acquisition of 2018
22/05/2018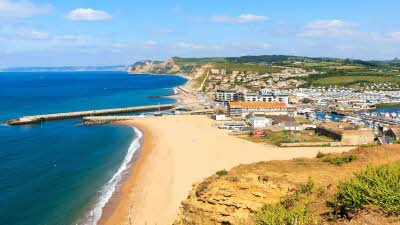 The Caravan and Motorhome Club has just announced its second UK site purchase for 2018, with the award winning Bingham Grange Touring & Camping Park in Dorset joining its network of over 200 Club sites.
The newly named Bridport Bingham Grange Caravan and Motorhome Club Site, located just a few miles from West Bay and Bridport seaside towns is available to book now from just £24 per night based on two adults and a standard pitch.
This popular touring park located in an idyllic setting overlooking an Area of Outstanding Natural Beauty and is perfectly situated for exploring the Jurassic Coast from Lyme Regis to Weymouth and Portland, including the magnificent Chesil Beach. Further inland, rolling hills and picturesque villages are the inspiration of Hardy's novels and include historic market town of Dorchester, or "Casterbridge" to Hardy fans. With its shops, restaurants, cafes, bars and bistros, museums, attractions, glorious gardens, river walks and a Roman Town House, Dorchester offers plenty to see and do.
Onsite facilities are second to none and are located in a honey stone barn at the centre of the Site. The barn houses a small shop and award-winning individual shower rooms as well as Buzzard's Restaurant serving a variety of delicious meals for those that don't want to cook.
Bridport Bingham Grange has carefully designed and landscaped pitches to preserve the rural ambience of the estate. Grange Garden's mature planting provides shelter and privacy for touring vehicles, while tent campers in the Valley View field will appreciate the stunning countryside views and amazing sunsets. There are 103 touring pitches and 29 tent camping pitches.
The Site has previously been awarded AA Campsites 5 Gold pennants and a 'Platinum' award from 'Loo of the Year'. Dog owners can take advantage of the all-weather dog walk area which extends along two sides of the site and is one of the largest on any caravan park in Dorset.
Find out more about Bridport Bingham Grange Caravan and Motorhome Club Site here.
For more information on the Caravan and Motorhome Club or to book please visit: www.camc.com
-Ends-
Notes to editors
About the Caravan and Motorhome Club
Champions of the great outdoors, the Caravan and Motorhome Club represents the interests of over one million caravanners, motorhomers and trailer tent owners across the UK. Founded in 1907, the Caravan and Motorhome Club has 111 years' experience and prides itself on offering great value and high quality sites for caravanners and motorhomers.
Caravan and Motorhome Club membership is just £51 per year and provides members with access to over 200 Club sites and 2,500 privately owned places to stay in the UK. UK Club sites can be booked a year ahead, all year round.
The Club also offers a choice of over 300 sites across Europe including France, Spain and Germany amongst other destinations. All members can take advantage of expert advice, overseas travel services, cover and insurance and exclusive member offers and discounts. There is no membership requirement for campers who want to pitch up at over 40 Caravan and Motorhome Club sites.