A Royal Bank Holiday weekend of fun
14/10/2015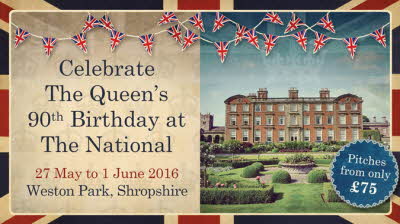 The National is an extra special event this year as we celebrate Her Majesty the Queen's 90th birthday. The event will be open from 27 May – 1 June at Weston Park on the Shropshire and Staffordshire border.
The National is a highlight within The Club's calendar, attracting around 6000 people over the May bank holiday to experience a host of family fun and great entertainment. This year's performances include Ultimate Elton John and The Take That Experience tribute acts and a promenade concert 'Night At the Proms' to commemorate Queen Elizabeth II birthday – a celebration of the best loved hits from each decade of our Queen's lifetime.
A most welcoming 17th Century stately home, Weston Park houses an internationally important art collection and miles of woodland walks, lakes and follies. Gifted to the nation in 1986, the Weston Park Foundation, who now own and maintain the estate, will be celebrating its 30th birthday in 2016.
Grenville Chamberlain, Chairman of The Caravan Club said: "It really is a delight to be part of the National for another year, and using this as a chance to celebrate her Majesty's birthday is an added bonus! On behalf of The Caravan Club we invite everybody to join in the Bank Holiday Festivities."
Caravan and motorhome manufacturer, Adria UK, will be supporting The Caravan Club for a second year, hosting their own festivities and evening performances in the Adria Marquee. During the day, the National boasts lots of new attractions, including the extended 'Have a Go' area where visitors can try rock-climbing, trial biking, archery and more.
This year's National promises to be the 'biggest celebration ever', with the Queen's Birthday activities and events added into the mix. The event is open to day visitors from the local area, while entry after 5pm is free of charge for those wishing to purchase tickets to the evening entertainment.*
For more information please visit: www.caravanclub.co.uk/national.
Pitch Prices
Non-electric centre pitch – price inclusive of 2 adults, £75
Electric regional pitch – price inclusive of 2 adults, £105
Blue Badge pitch – inclusive of 2 adults* & Electric, £105

Extras
Adults, £25
Youth (5 to 17's) FREE
Child (0 to 5's) FREE
Friday Arrival with or without EHU, £10
Additional Car, £20

Evening Entertainment
Fri-Sun £17.00 Adult, £12.00 Youth (5-17yrs), FREE Child (under 5)
Mon-Tue £12.00 Adult, £7.00 Youth, FREE Child (under 5)
*subject to availability and T&Cs
---
Contact information

Nikki Nichol
External Communications and Sponsorship Manager
The Caravan Club
01342 336 797 / 07771 834443
nikki.nichol@caravanclub.co.uk

Rochelle Claxton
Communications Administrator
The Caravan Club
01342 779346
rochelle.claxton@caravanclub.co.uk

Notes to editor

Champions of the great outdoors, The Caravan Club represents the interests of over one million caravanners, motorhomers and trailer tent owners across the UK.

The Caravan Club offers its members over 200 Club Sites and 2,500 privately owned places to stay, and provides all members with expert advice, overseas travel services, financial services and exclusive member offers and discounts.