Caravan Club Outfit Matching Service
14/10/2015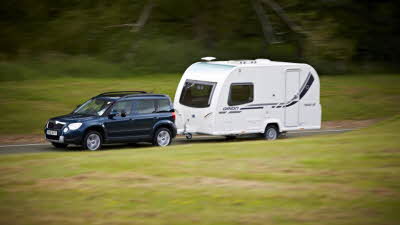 The Caravan Club has offered advice to caravanners regarding the compatibility of their towcars and caravans since caravanning first became a motorised activity in the early 20th century. For around 20 years, detailed advice has been available to Club members and non-members, using a series of increasingly sophisticated database systems.
Since 2002, The Club has produced its own system, giving it the flexibility to tailor its advice to the needs of enquirers, logging essential details such as kerbwieght, noseweight, payload and overall dimensions for tens of thousands of towcars and caravans. In many cases, The Club holds information which can be a challenge to find for obsolete models, such as awning length or original tyre size.
The Club draws on the enormous experience of its membership, its in-depth knowledge of towcar characteristics from continual road-testing and over 30 years of running the annual Caravan Club Towcar of the Year Competition, and insight gained from supporting academic research to ensure the advice offered is accurate and leads to outfits which are safe, legal and comfortable to tow.
The Club's team of expert Technical Advisors are available during weekday office hours to provide detailed guidance on outfit selection to Club members and non-members looking for advice to get started.
Club members with sufficient experience can search for suitable combinations or assess the fitness of a given match themselves online, 24 hours a day, 7 days a week on The Caravan Club website.
Both these services utilise the same technical database, which currently contains details of more than 66000 models of towcar going back to 1996 and beyond, and nearly 21000 models of caravan (including dealer specials), trailer tents and folding campers going back to 1980 – that's nearly 1.4 billion possible combinations. The coverage of older cars and caravans is vital, as many Club members own a range of second hand models. It also means The Club can advise those beginners looking to try out caravanning for the first time on a modest budget.
In January 2011, The Club made its matching system available to all Club Members online, free of charge and with no restrictions on usage. In 2014, a basic outfit guidance tool was introduced on The Club's Experience Freedom website, providing simple guidance for beginners regarding the likely compatibility of generic types of car and caravan or trailer.
To find out more about The Caravan Club's online outfit matching service, visit our outfit matching page.
To find out more about how you can get started caravanning, visit www.experiencefreedom.co.uk.
---
Contact information

Kelly Adams
Kate O'Brien
Katie Wright
Siren Communications
0207 759 1150
caravanclub@sirencomms.com

Nikki Nichol
External Communications and Sponsorship Manager
The Caravan Club
01342 336 797 / 07771 834443
nikki.nichol@caravanclub.co.uk

Rochelle Claxton
Communications Administrator
The Caravan Club
01342 779346
rochelle.claxton@caravanclub.co.uk

Notes to editor

Champions of the great outdoors, The Caravan Club represents the interests of over one million caravanners, motorhomers and trailer tent owners across the UK.

The Caravan Club offers its members over 200 Club Sites and 2,500 privately owned places to stay, and provides all members with expert advice, overseas travel services, financial services and exclusive member offers and discounts.