Caravanner of the Year Competition
11/04/2016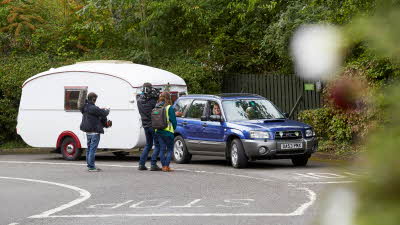 The Caravan Club is the largest touring organisation of its kind, representing over one million caravanners. As a champion of the great outdoors it is committed to raising the positive profile of caravanning for the benefit of members and the industry as a whole.
The Caravan Club allowed the BBC to film its 'Caravanner of the Year' competition that celebrates this Great British pastime which is held in high affection. Six top enthusiasts, (all Club members) battled it out across two highly charged weekends to win The Caravan Club's inaugural competition and the coveted title of 'Caravanner of the Year'. It's the caravanning world's "Great British Bake Off".
The programmes - which will be aired on BBC2 at 8pm on 20 and 27 April - follow the fun, and drama, of how the motorhomers, caravanners and campervanners competed against each other.
The enthusiasts were faced with a variety of challenges covering activities such as manoeuvring, navigation, hospitality and caravanning knowledge. There was also the precision challenge of the Concours D'Elegance which demanded much polishing and primping of their vehicles!
Judges for the competition were Grenville Chamberlain, Chairman of The Caravan Club and motorhome maverick and journalist Andy Harris. Guest judges Lucy Jayne Grout, a specialist in vintage caravan restoration and Martin Dorey, the Camper Van Cook, both utilized their expertise to assess the competitors.
Scenic Ferry Meadows Caravan Club Site was the backdrop for the competition and on the Finals weekend all site visitors enjoyed an impromptu party with the finalists to celebrate the competition.
Grenville Chamberlain, Chairman of The Caravan Club, said, "It was a privilege to be involved with the competition and have the opportunity to meet such wonderful people who obviously greatly enjoy their caravanning and motorhoming. The programmes really highlight the camaraderie and sense of community that caravanners enjoy and we certainly had great fun during the competition. Tune in and watch the programmes and start planning your summer caravanning trips!"
---
Nikki Nichol
External Communications and Sponsorship Manager
The Caravan Club
01342 336 797 / 07771 834443
nikki.nichol@caravanclub.co.uk
Notes to editor
Follow us on Twitter @CaravanClubCOTY and like our Facebook page Caravanner of the Year and don't forget to use the hashtag! #caravanclubCOTY.
Champions of the great outdoors, The Caravan Club represents the interests of over one million caravanners, motorhomers and trailer tent owners across the UK.

The Caravan Club offers its members over 200 Club Sites and 2,500 privately owned places to stay, and provides all members with expert advice, overseas travel services, financial services and exclusive member offers and discounts.