CL of the Year Awards 2016
14/11/2016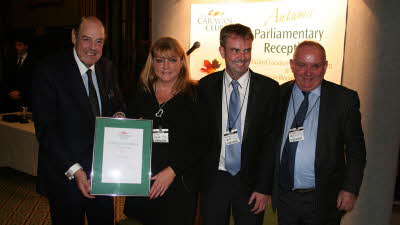 Woody Kiln Farm Certificated Location (CL), in Pembrokeshire has been awarded first-place in The Caravan Club's Certificated Location of the Year Awards 2016. The award was voted for by The Caravan Club's one million members and presented at the House of Commons.
Owners Sharon and Dean Philpin received their award from the Rt Hon Sir Nicholas Soames, Conservative MP for Mid Sussex, during The Club's annual Parliamentary Reception on 14 November 2016.
The farm itself has been in the family since 1960, with Dean living there his entire life before they opened as a CL in August 2015. Set in the beautiful Pembrokeshire countryside, the site is perfectly located for walking, cycling, and nature and wildlife inspired getaways.
Just a 20 minute walk from the beach and access to the Pembrokeshire Coast Path, visitors can explore the 186 miles of magnificent scenery as well as spotting native plants, animals and birds.
Port Arthur Farm Certificated Location (CL) near North Yorkshire's Knaresborough was awarded second place with Hillcroft Certificated Location (CL) in Kilgetty, Pembrokeshire taking third.
Certificated Locations are privately-owned, maximum five-van sites found across the UK, many in idyllic and remote locations on farms, country estates and beside inns, which can provide a valuable, additional income stream for local communities. These awards are presented at the House of Commons in recognition of the Caravan Sites and Control of Development Act (1960) which enables The Caravan Club to grant certificates to landowners to operate CLs.
Sharon Philpin, owner of CL of the Year, Woody Kiln Farm commented:
"It is a huge surprise to us both to have won this award and we are absolutely thrilled. Having opened as a CL in August last year we have been extremely busy every day since. We've put a lot of focus on ensuring that our site meets the needs of modern day holidaymakers including digital TV and satellite hook-ups, and site-wide superfast wifi. Most importantly however, the feedback that we receive from our guests is that we are always on hand to help out with any queries as well as popping down to join them for a glass of wine in the evening sun!"
Caravan Club Chairman, Grenville Chamberlain, added:
"Access to The Caravan Club's CL network is a huge benefit of membership and each and every CL offers something completely different. This year's winners' commitment to offering the best possible experience for Club members, combined with their beautiful settings are the reasons why these sites have been awarded these prestigious accolades."