Commonwealth Games Site Parties
24/01/2014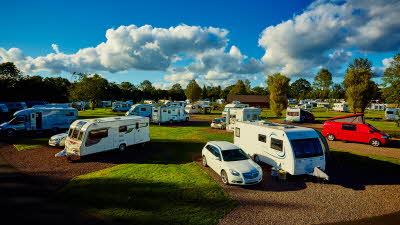 This year, Glasgow is to host the Commonwealth Games and it promises to be one of the standout UK events of the year. The Caravan Club has a number of Club sites within a relatively short drive time of the Games. There are 17 Certificated Locations (CLs), small, five-vehicle sites in the area and a number of Caravan Club sites, all within a short distance of the Games. Strathclyde Country Park site lies in 400 hectares of countryside in Motherwell, just 15 miles from the bustling city centre of Glasgow. This Country Park will host the Triathlon event of the Games. The loch will be used for swimming and competitors will cycle and run on the surrounding network of roads and paths.
Caravan Club sites located within 90 minutes' drive of the Games venues during the period 25 - 27 July are: Strathclyde Country Park, Edinburgh, Melrose Gibson Park, Ayr Craigie Gardens and Blabirnie Park.
Tony Hall, Director of Marketing for The Caravan Club says, "Following the success of the Olympics in 2012, it's hoped that the Commonwealth Games will generate the same contagious enthusiasm across the country. With so many sites located close to the Games, our members are in a great position to enjoy the whole occasion and avoid expensive hotel costs at the same time."
Hall continues, "Caravans and motorhomes not only offer affordable accommodation at times when demand peaks. These home-away-from-homes allow everyone to get up close to the action with the flexibility to move on from event to event."
In addition to the Commonwealth Games, The Club was approached by Bruno Peek, Pageantmaster for Fly a Flag for the Commonwealth, to get involved in this significant tribute. Hundreds of Commonwealth flags will be flown across the UK and beyond from 10 March, through to the end of the Commonwealth Games on 3 August. The Caravan Club will be participating by flying a flag at Edinburgh Club Site.
---
Contact information

Maxine Soghmanian
PR Manager
01342 336768
maxine.soghmanian@caravanclub.co.uk

Beverley Larion
Press Officer
01342 336664
beverley.larion@caravanclub.co.uk

Notes to editors

Champions of the great outdoors, The Caravan Club represents the interests of over one million caravanners, motorhomers and trailer tent owners across the UK.

The Caravan Club offers its members over 200 Club Sites and 2,500 privately owned places to stay, and provides all members with expert advice, overseas travel services, financial services and exclusive member offers and discounts.