Family fun with Tourer Explorer at the Birmingham NEC
13/10/2015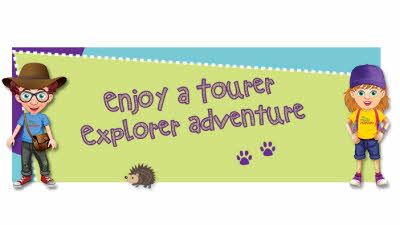 Families keen to learn more about family focused activities on offer from The Caravan Club can meet the team at this year's NEC Motorhome and Caravan Show, taking place between 13 and 18 October 2015.
Families are actively encourage at 65 of The Caravan Club Sites across the UK, where there is no risk of kids getting bored with The Club's new 'Tourer Explorer' activity booklets and Cache trails.
Exciting activities including colouring competitions, goodie bags and Tourer Explorer gifts to purchase will all be on offer at the show. Little ones will also enjoy meeting Holly Day and Andy Venture, the two mascots, who encourage children to complete the many challenges involved in becoming a 'Tourer Explorer'. It is also possible to buy the popular cuddly toy characters at the show for families planning a caravanning or camping getaway in 2016.
Kids can become a 'Tourer Explorer' by having great fun outdoors and completing a number of outdoor themed challenges. The activity booklets encourage children to get involved in every aspect of a camping or caravanning holiday and can benefit by earning stamps on a reward card, leading to fun gifts to keep them entertained during all types of UK weather. Once the aspiring 'Tourer Explorers' have visited six sites and received a stamp from the warden they will be rewarded with a 'Tourer Explorer' bag.
'Mini Explorer' activity booklets are for those aged three to six years old and include car journey games, find the odd one out and explore and find. 'Epic Explorer' activity booklets are also available for older children aged between seven and 12. These activities are slightly more challenging and include wordsearches, cryptic messages and outdoor family activities.
Neil Windeatt, Head of Site Operations commented "The introduction of child-focussed outdoor activities in 2015 under the Tourer Explorer brand have been really well received by not only the children themselves but by their parents and grandparents too. We look forward to many more families getting involved with the outdoor activities at our sites up and down the UK in 2016."
The Caravan Club's 'Tourer Explorer' activity booklets are available at 65 UK Sites. For more information visit www.caravanclub.co.uk/uk-holidays/be-inspired/family-sites/tourer-explorer/
For further information and details on how to join The Caravan Club visit www.caravanclub.co.uk.
---
Contact information

Kelly Adams
Kate O'Brien
Katie Wright
Siren Communications
0207 759 1150
caravanclub@sirencomms.com

Nikki Nichol
External Communications and Sponsorship Manager
The Caravan Club
01342 336 797 / 07771 834443
nikki.nichol@caravanclub.co.uk

Rochelle Claxton
Communications Administrator
The Caravan Club
01342 779346
rochelle.claxton@caravanclub.co.uk

Notes to editor

Champions of the great outdoors, The Caravan Club represents the interests of over one million caravanners, motorhomers and trailer tent owners across the UK.

The Caravan Club offers its members over 200 Club Sites and 2,500 privately owned places to stay, and provides all members with expert advice, overseas travel services, financial services and exclusive member offers and discounts.