Field House Farm wins CL of the Year
02/11/2015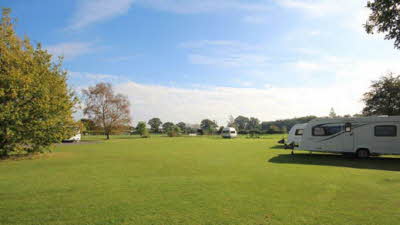 Field House Farm Certificated Location (CL), in Skipwith, York has been awarded first place in The Caravan Club's CL of the Year Awards 2015, voted for by The Caravan Club's one million members and presented at the House of Commons. Owner Wendy Tomlinson and her partner Stuart Preston received their award from, Rt Hon John Whittingdale MP, Secretary of State for Culture, Media & Sport, during The Club's annual Parliamentary Reception on Tuesday, 3 November.
Gotrans Certificated Location in Norwich and Cusher Valley Certificated Location in Co. Armagh, also win joint second place.
Certificated Locations are privately owned, maximum five-van sites found across the UK, many in idyllic and remote locations on farms, country estates and beside inns, which can provide a valuable, additional income stream for local communities. These awards are presented at the House of Commons in recognition of the Caravan Sites and Control of Development Act (1960) which enables The Caravan Club to grant certificates to landowners to operate CLs.
CL of the Year winner Wendy Tomlinson and her partner Stuart inherited Field House Farm from Wendy's late father in 2004. She had lived there all her life, but saw an opportunity to develop the farm into a CL site – the planning of which took six years, the site opened as a CL in December 2013.
The site, based in Skipworth, York, boasts plenty of places to visit in the local area and the City of York. Visitors use the site both as a starting point to explore the city and further afield or just relax on the site to watch the local wildlife and enjoy the peace of the countryside. Dog owners are able to use the paddock on request where their well-behaved dogs can run off the lead.
Some members have used Field House Farm as a base to meet up with family and friends or explore the local area including Skipwith Common, Elvington Air Museum, York Maize, York Railway Museum, and McArthur Glen Designer Outlet.
Wendy said "We love living where we are and our friends and family always commented on how lucky we were, we also love caravanning ourselves. Stuart decided to build everything to a high standard to ensure we had something different to offer our caravanners, including the luxury heated cabin with a shower and toilet".
"With living here most of my life I was worried about having complete strangers arriving and having to meet and greet them all, worried about what they would think about the site. What we didn't expect was to meet some wonderful caravanners who we truly enjoy meeting and chatting to. We've made some fabulous friends who even volunteer to help at lambing time!"
In joint second place, Gotrans CL in Norwich and Cusher Valley CL in Co. Armagh have been open to members since 1998 and 2007 respectively.
Located near the Norfolk coast Gotrans CL is a peaceful, half acre lawned site where you can relax with a drink, listen to the birds singing and expect a warm welcome from the site owners Jimmy and Joyce Gotts.
Open since 1998, and a previous national and regional award winner, Gotrans is located close to the beach and coastal walks. Happisburgh Lighthouse, the stunning East Ruston Old Vicarage Gardens or the Norfolk Broads are all within easy reach of the site. For the more energetic members, there are plenty of quiet lanes for walking or cycling.
Joyce and Jimmy say "We have been caravanning since 1986 and always hoped that when we retired we would be able to run our own caravan site. Gotran's is our realisation of that dream. We enjoy running a CL site as we get to meet new people on a daily basis and have an opportunity to catch up with old and new friends - members always say that they return for the welcoming and friendly atmosphere and hosts".
Joining Gotrans CL in joint second place is Cusher Valley CL in Markethill, Co. Armagh, which sits on farmland beside owners Linda Gilmore and her husband's home. It is a small, half acre, gently landscaped site with views across the farming countryside down to the Cusher River and across to Slieve Gullion in the distance.
Open since August 2007, their regular customers are mainly retired members who enjoy trying out the local restaurants and coffee shops and have somewhere new on the list to try each time they visit.
Linda, owner of Cusher Valley CL, said "We started the site from our own first-hand experience in caravanning. We fell in love with the peace and simplicity of a CL site and the friendliness of the owners so decided to open a CL ourselves".
"The most rewarding outcome of running the CL is the friendships and relationships we have made over the past years. We have had the privilege of sharing in people's lives and important events such as births of grandchildren, marriages and often listen with interest to all the holidays and caravanning trips to and from many parts of the world".
The site has five fully serviced, hard standing pitches with adjacent grassed areas and is bordered by beech hedging and landscaped flower and planted areas, along with a large outdoor play area with games and a small petting farm with hens, goats, Ouessant sheep and three alpacas.
There are two toilets, a shower and a reception/information cabin at the entrance that stocks all the usual maps, brochures and leaflets on the local area.
Caravan Club Chairman, Grenville Chamberlain, commented, "Access to The Caravan Club's CL network is a huge benefit of membership and each and every CL is a gem in the jewelled crown of the overall sites network. This year's winners yet again fly the flag and set a great example with commitment to providing Club members with more choice and exceptional places to stay and enjoy their caravanning. There are around 2500 CLs on the network which make a massive contribution in boosting local tourism economies."
---
Contact information

Nikki Nichol
External Communications and Sponsorship Manager
The Caravan Club
01342 336 797 / 07771 834 443
nikki.nichol@caravanclub.co.uk

Rochelle Claxton
Communications Administrator
The Caravan Club
01342 779 346
rochelle.claxton@caravanclub.co.uk

Notes to editor

Champions of the great outdoors, The Caravan Club represents the interests of over one million caravanners, motorhomers and trailer tent owners across the UK.

The Caravan Club offers its members over 200 Club Sites and 2,500 privately owned places to stay, and provides all members with expert advice, overseas travel services, financial services and exclusive member offers and discounts.