Great savings for Caravan Club members across UK and Ireland
25/01/2016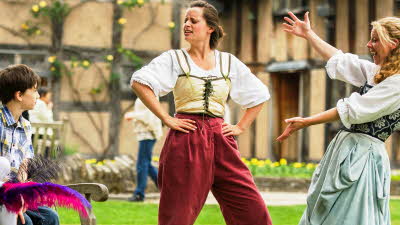 Over the years The Club has proudly provided its members with fantastic savings at attractions across the UK and Ireland, and once again, the annual Great Savings Guide, which is sponsored by Mitsubishi Motors, has been released for 2016. It combines days out with a range of great discounts on products and services.
The Great Savings Guide is an offer booklet for members of The Caravan Club providing discounted entry to hundreds of attractions and venues around Britain and Ireland, inspiring great days out near Club sites when touring across the country, including two for one entry into Brixham Heritage Museum near Hillhead Caravan Club site in Devon.
The annual booklet features vouchers that are valid throughout 2016 with a valid membership card, including discounted entry to a number of zoos, museums, places of historical interest and much more. The Guide also features other member offers via The Club, including deals with companies such as Roadchef, Mitsubishi Motors, the National Trust and the M6toll, which was utilised over 17,500 times during 2015.
This year, the Great Savings Guide features a new 'thumbs up' logo for The Club's Tourer Explorer characters Holly and Andy recommended venues, to help members choose the most child- and family-friendly excursions when planning days out for the whole family.
Natasha Macdonald, The Caravan Club's Head of Product Development, said, "We have combined top visitor attractions with exciting new leisure activities across the UK and Ireland to provide something for everyone, with offers for heritage, farms & wildlife, museums and railway attractions to bowling, laser games, crazy golf, bike hire, fishing and offers with Go Ape. We hope that our members will continue to use the Great Savings Guide to inspire great days out when touring."
Members can order via The Club Shop for their free Great Savings Guide – the Guide's downloadable vouchers are also available online for members to get the most out of The Club's deals. Visit www.caravanclub.co.uk/greatsavingsguide for more information.
Members can visit www.caravanclub.co.uk/memberoffers to find more offers and discounts online.
---
Contact information
Nikki Nichol
External Communications and Sponsorship Manager
The Caravan Club
01342 336 797 / 07771 834443
nikki.nichol@caravanclub.co.uk
Rochelle Claxton
Communications Administrator
The Caravan Club
01342 779346
rochelle.claxton@caravanclub.co.uk

Notes to editor

Champions of the great outdoors, The Caravan Club represents the interests of over one million caravanners, motorhomers and trailer tent owners across the UK.

The Caravan Club offers its members over 200 Club Sites and 2,500 privately owned places to stay, and provides all members with expert advice, overseas travel services, financial services and exclusive member offers and discounts.