Hillcroft wins third place
14/11/2016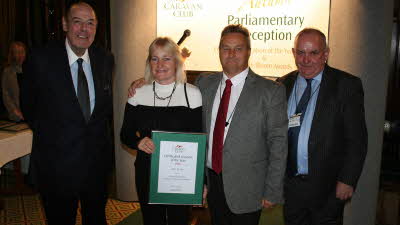 Hillcroft Certificated Location (CL) in Kilgetty, Pembrokeshire has been awarded third place in The Caravan Club's Certificated Location of the Year Awards 2016. The award was voted for by The Club's one million members and presented at the House of Commons.
Owners Bruce and Ann Regimbal received their award from the Rt Hon Sir Nicholas Soames, Conservative MP for Mid Sussex, during The Club's annual Parliamentary Reception on 14 November 2016.
Certificated Locations are privately-owned, maximum five-van sites found across the UK, many in idyllic and remote locations on farms, country estates and next to inns, which can provide a valuable, additional income stream for local communities. These awards are presented at the House of Commons in recognition of the Caravan Sites and Control of Development Act (1960) which enables The Caravan Club to grant certificates to landowners to operate CLs.
Third place winners Bruce and Ann have been operating their site as a CL since 2000, and this is the fourth time they have taken national honours, being placed third in 2004 and 2008 and second in 2011. Set in just over two acres the site is surrounded by scenic countryside views and is open all year round. The sandy beaches of Tenby and Saundersfoot are both less than five miles away and the local Kilgetty village offers a range of shops and amenities.
Bruce Regimbal, owner of Hillcroft CL commented:

"We are delighted to be given this award. We would like to take this opportunity to thank members, not only for their much appreciated votes, but for their general input to the site in helping to create a happy environment for all who holiday at Hillcroft, and who make the day-to-day running of the site a real pleasure for us."

Caravan Club Chairman, Grenville Chamberlain, added:
"Every CL across our network offers our members great benefits. The sites that have been awarded this year are a true testament to the commitment of their owners in ensuring that all members have the opportunity to stay in an even wider choice of locations."
For more information please contact The Caravan Club on 01342 326 944 or visit www.caravanclub.co.uk.
-Ends-
Caravan Club membership is just £48 per year and provides members with access to over 200 Club sites and 2,500 privately owned places to stay in the UK. It also offers a choice of over 250 sites across Europe including France, Spain and Germany amongst other destinations. All members can take advantage of expert advice, overseas travel services, financial services and exclusive member offers and discounts. There is no membership requirement for campers who want to pitch up at over 40 Caravan Club sites.
_________________________________________________________________________________
Media enquiries
Contact Kate O'Brien or Emma Wayman at Siren Communications on 0207 759
1150 or email caravanclub@sirencomms.com.
Nikki Nichol, external communications and sponsorship manager at The Caravan Club on 01342 336 797 / 07771 834 443 or email nikki.nichol@caravanclub.co.uk.
Notes to editor
Champions of the great outdoors, The Caravan Club represents the interests of over one million caravanners, motorhomers and trailer tent owners across the UK.
For further information about becoming a member of The Caravan Club please visit www.caravanclub.co.uk or call 01342 318 813.