Motorhomes fuel record growth in 2016
03/05/2017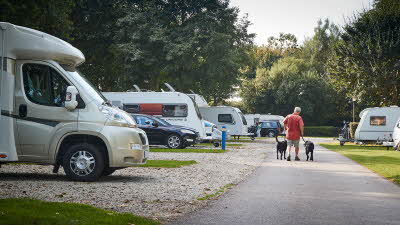 The Club shows great start to 2017 with a record number of occupied pitches in the first quarter, up 8% from 2016.
2016 membership performance of the Caravan and Motorhome Club was the best since 2009 in terms of both retention and acquisition, with 87% of members remaining with the Club and 52,000 new members joining. This trend in new members joining the Club is continuing into 2017 with a very healthy start to the year, in fact the highest since 2012.
With four out of ten new members being motorhomers, it is clear this area of the market is having a significant impact on membership numbers. With the record pitch occupancy in January, February, March and April swiftly following the very high number of nights stayed on Club sites for November and December last year, caravanning and motorhoming is now a year-round pursuit.
Interest in motorhome holidays is at an all-time high and Harvey Alexander, Caravan and Motorhome Club director of marketing said: "Having recently returned from a Just Go motorhome re-location holiday, driving a motorhome from Italy to the UK, I'm well placed to extol the virtues of this type of holiday and recommend it as a great and cost effective introduction to touring holidays. There is nothing better than having the freedom of being able to travel when you want, have a break when you want and experience the great outdoors, particularly when you have a young family like I do.
"It is no surprise that our latest figures are recording a bumper year, fuelled by the growth of motorhome members. These figures are backed up by our recent research released in The Inspiring Adventure Report, which states that touring holidays are set to enjoy a boom over the next decade with spending increasing by more than a third. We know that our million members are becoming increasingly varied and motorhomes play an important role – all share a passion for the freedom of exploring and enjoying adventures. As a trusted membership organisation with 110 years' experience, we are proud to offer caravanners and motorhomers alike great value and high quality sites with fabulous facilities for all the family to enjoy."
In its recent Inspiring Adventure Report, the Caravan and Motorhome Club also predicts that more than 16 million caravan, motorhome and camping trips will be made next year – the highest since 2006 and in the next five years the number of trips taken will increase by 400,000.
The Club is also expecting the number of caravans and motorhomes in the UK to rise from 755,000 touring today to top more than 800,000 for the first time by 2022. Brits are forecast to spend some £3.6 billion on touring holidays by 2030 – a rise of 37% per cent on current levels.
For more information on the Caravan and Motorhome Club, please visit www.camc.com
-Ends-
About the Caravan and Motorhome Club
Champions of the great outdoors, the Caravan and Motorhome Club represents the interests of over one million caravanners, motorhomers and trailer tent owners across the UK. Founded in 1907, the Caravan and Motorhome Club has 110 years' experience and prides itself on offering great value and high quality sites for caravanners and motorhomers.
Caravan and Motorhome Club membership is just £49 per year and provides members with access to over 200 Club sites and 2,500 privately owned places to stay in the UK.
It also offers a choice of 300 sites across Europe including France, Spain and Germany amongst other destinations. All members can take advantage of expert advice, overseas travel services, insurance services and exclusive member offers and discounts. There is no membership requirement for campers who want to pitch up at over 40 Caravan and Motorhome Club sites.
For further information about becoming a member of the Caravan and Motorhome Club please visit www.camc.com or call 01342 318 813.
About Just Go
Just Go is one of several companies offering motorhome hire in the UK and Australia and New Zealand. Every year the company runs re-location packages offering the chance to enjoy a luxury motorhome holiday at a fraction of the usual cost.
For more information on Just Go, visit www.justgo.uk.com. The re-location package that Harvey took cost £550 for two people including flights to Italy via British Airways.
Media Contacts:
For press information and imagery, please contact Helen Coop or Zoe Poulton at Four Travel:
camc@fourcommunications.com / +44(0) 203 697 4200
Nikki Nichol, external communications and sponsorship manager at the Caravan and Motorhome Club is available on 01342 336 797 / 07771 834 443 or via email: nikki.nichol@camc.com