New camping site for 2016
25/01/2016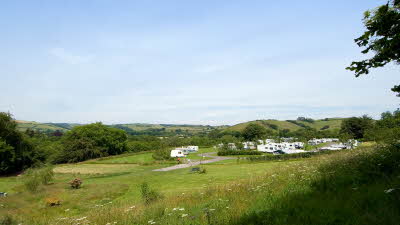 Exebridge Lakeside Caravan Club Site boasts superb views of the surrounding hills and the Exe Valley. With the addition of tent pitches, this site makes an excellent base from which to discover the spectacular coastline and scenic sandy beaches of North Devon. This superb location is guaranteed to give a relaxing break and a memorable family holiday, and is available from as little as £17 per night based on two adults.
There is no membership requirement for campers who want to pitch up at over 40 Caravan Club sites, and bookings for tent camping are on sale now; prices start from £12.60 per night based on two adults. 2015 saw the introduction of six new sites to the camping site network, including Daleacres in Kent and Rookesbury Park in Hampshire.
Harvey Alexander, Director of Marketing at The Caravan Club said, "We're glad to be adding Exebridge Lakeside to our ever-growing network of tent camping sites – it's great to expand our network and show that The Caravan Club is about outdoor adventure in its many forms."
Reviews on The Caravan Club's online forum Club Together show that adding camping pitches to Caravan Club sites makes it easier for members to invite their friends and family along on their holidays, as our tent areas are accessible to everyone with no joining fee.
Find out more about The Caravan Club's camping sites.
---
Contact information
Nikki Nichol
External Communications and Sponsorship Manager
The Caravan Club
01342 336 797 / 07771 834443
nikki.nichol@caravanclub.co.uk

Notes to editor

Champions of the great outdoors, The Caravan Club represents the interests of over one million caravanners, motorhomers and trailer tent owners across the UK.

The Caravan Club offers its members over 200 Club Sites and 2,500 privately owned places to stay, and provides all members with expert advice, overseas travel services, financial services and exclusive member offers and discounts.
There is no membership requirement for campers who want to pitch up at over 40 Caravan Club sites. The Caravan Club has also introduced camping pods, available for both members and non-members. Complete with a futon bed, heating and electricity, the pods, sleeping two adults and up to two small children, offer a well-insulated option for those keen to explore the great outdoors all year round. Caravan Club membership is just £48 per year and provides members with access to over 200 Club sites and 2,500 privately owned places to stay in the UK. It also offers a choice of over 230 sites across Europe including France, Spain and Germany amongst other destinations. To book a tent pitch online visit www.caravanclub.co.uk/camping.