Port Arthur Farm wins second place
14/11/2016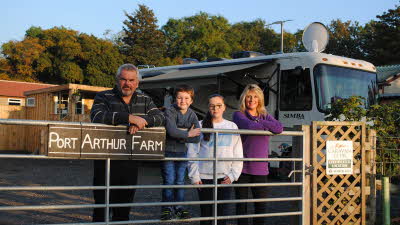 Port Arthur Farm Certificated Location (CL) near North Yorkshire's Knaresborough, owned by Vicki and Graham Bonney, has been awarded second place in The Caravan Club's Certificated Location of the Year Awards 2016. The awards were voted for by The Caravan Club's one million members and presented at the House of Commons.
Certificated Locations are privately-owned, maximum five-van sites found across the UK, many in idyllic and remote locations on farms, country estates and next to inns, which can provide a valuable, additional income stream for local communities. These awards are presented at the House of Commons in recognition of the Caravan Sites and Control of Development Act (1960) which enables The Caravan Club to grant certificates to landowners to operate CLs.
Second place winners Vicki and Graham Bonney opened Port Arthur Farm CL in 2014. The site boasts spacious pitches and a scenic location which prove consistently popular with guests.
The site is quiet and family-run, surrounded by several villages and a wide network of walking and cycling routes. Knaresborough and Harrogate are a few miles away and offer plenty of opportunities for exploring a wide range of shops, restaurants and attractions including Betty's Famous Tearooms, The Great Yorkshire Showground and RHS Harlow Carr Gardens.
Vicki and Graham Bonney, owners of Port Arthur Farm CL commented:

"The facilities we offer coupled with our fantastic location is what makes our CL special. We have locals who come for peaceful short breaks all year round and we have longer term visitors from all over the country who also come for either a peaceful break or to visit the many attractions, as well as walks, cycle routes, dog walks and outdoor markets all within easy reach. Ultimately what makes us happy is that our guests go home having had a great break with us. We would like to take this opportunity to thank the members for their much appreciated votes."

Caravan Club Chairman, Grenville Chamberlain, added:

"Every CL across our network offers our members great benefits. The sites that have been awarded this year are a true testament to the commitment of their owners in ensuring that all members have the opportunity to stay in an even wider choice of locations."