Safe winter towing
16/11/2015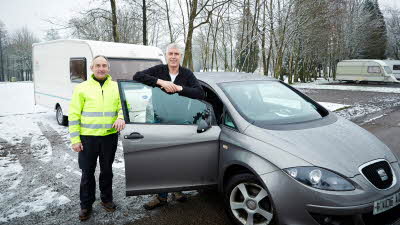 With the cold weather and darker evenings setting in, drivers planning a motorhome, caravanning or camping holiday this winter; can be prepared for driving in any conditions with top tips from The Caravan Club.
The Caravan Club offers over 37 sites that are open year-round, offering holidaymakers a comfortable and affordable option for a winter break. Whether it's a holiday in Europe or a 'staycation' at one of the UK's best spots, it is important for drivers to ensure that they are embarking on their journeys fully prepared for rain, snow, fog and even the occasional bit of sunshine.
The Caravan Club recommends the following advice to ensure a safe journey this winter:
Towing in snowy/rainy conditions
When towing in adverse weather conditions such as rain and snow, The Club recommends that drivers allow more time and distance for braking, and moderate their speed. Holidaymakers should also consider using winter or all season tyres and in really extreme snow conditions, snow chains should be used on the driven wheels
Be prepared
The Caravan Club recommends the comprehensive pre-journey 'POWDERY' checklist. Drivers should make the following checks before heading onto the roads:
Petrol (or diesel) – Make sure that your vehicle has enough fuel before travelling, keep an eye on these levels throughout the journey so that you don't run out
Oil – Check levels before travelling and going forward be sure to check levels once a month
Water – Check radiator and screen wash before a trip and once a month going forward
Damage – Check wipers, lights etc. for signs of wear and tear or damage
Electrics – Check that lights, indicators and controls are working properly
Rubber – Make sure that your tyres are well inflated, legal, with good tread and free from damage
Yourself – Get a good night's sleep the night before the journey. Are you taking any medication(s) that could make it unsafe for you to drive and are you generally fit to drive?
For more information about the POWDERY list, visit Highways England.
It is also recommended to pack warm clothes, food, drink and a blanket in the car, in case of any emergencies or traffic jams. Don't forget to check traffic and weather conditions before setting off using online or news resources, and keep up to date with changing conditions while travelling via radio or mobile alerts.
Going abroad
The Caravan Club has a number of guides which offer specific legal requirements when driving abroad during winter. For country-specific recommendations holidaymakers can view The Club's Touring France, Touring Spain & Portugal and Touring Europe guides online.
Martin Spencer, technical manager, The Caravan Club commented:
"A motorhome or caravanning holiday is a great option all year round giving holidaymakers the opportunity to explore some of the most beautiful spots around the UK and Europe. During the chillier months, just make sure your vehicle is well-prepared, check traffic and weather conditions before setting off, and allow sufficient time for the journey itself.'
---
Contact information

Kelly Adams
Kate O'Brien
Katie Wright
Siren Communications
0207 759 1150
caravanclub@sirencomms.com
Nikki Nichol
External Communications and Sponsorship Manager
The Caravan Club
01342 336 797 / 07771 834 443
nikki.nichol@caravanclub.co.uk

Rochelle Claxton
Communications Administrator
The Caravan Club
01342 779 346
rochelle.claxton@caravanclub.co.uk

Notes to editor

Champions of the great outdoors, The Caravan Club represents the interests of over one million caravanners, motorhomers and trailer tent owners across the UK.

The Caravan Club offers its members over 200 Club Sites and 2,500 privately owned places to stay, and provides all members with expert advice, overseas travel services, financial services and exclusive member offers and discounts.