Step back in time with armistice celebrations
15/10/2018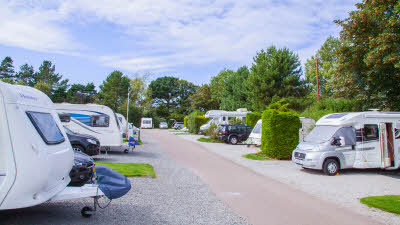 Nick Lomas, Director General of the Caravan and Motorhome Club, talks at the Motorhome and Caravan Show about commemorating Armistice Day and Sites that are near to beaches.
Brancaster Beach, Cromer
Seacroft Caravan and Motorhome Club Site
Seacroft Club Site is a perfect family getaway, with added bonuses including an outdoor swimming pool, a bar, a games room and even the new addition of a seaside restaurant with freshly prepared, locally sourced produce. The beautiful, coastal surroundings that are within walking distance, prove ideal for nature lovers and are host to a range of activities, and with nearby towns filled with museums and steam trains, this is the place to head for an unforgettable trip.
Prices start from £20 per night based on two adults sharing a standard pitch
Sunny Sands Beach, Folkestone
Black Horse Farm Caravan and Motorhome Club Site
For a peaceful break, Black Horse Farm Club Site is the place to visit. Set in the heart of the quiet countryside, and with many fantastic locations nearby such as the historic and beautiful city of Canterbury, several National Trust and English Heritage properties and the attractive towns of Folkestone and Dover, this site is not one to miss for those who want a relaxing getaway.
Prices start from £16.30 per night based on two adults sharing a standard pitch
Formby Beach, Merseyside
Southport Caravan and Motorhome Club Site
Southport Club Site is located just a short walk from the elegant Victorian seaside town of Southport, from Victoria Park, a beautiful nature reserve and from a nearby beach. The site is ideal for families who want to explore and for nature lovers who are keen to discover the lovely walks in the local area, such as Formby beach. With other famous attractions in the area including the Lake District, the Yorkshire Moors, the Roman city of Chester and Wigan Pier, this Southport site makes for an ideal holiday touring base.
Prices start from £20.90 per night based on two adults sharing a standard pitch
Swansea Beach, South Wales
Pembrey Country Park Caravan and Motorhome Club Site
After a recent redevelopment, Pembrey Country Park Club Site is better than ever, with a brand new play area and new serviced pitches. It is set on the edge of a 520-acre country park, perfect for a range of outdoor sporting activities. With a beautiful sandy beach only a mile away, this is the perfect spot for a family holiday. Located in picturesque Pembrey, and with many restaurants nearby in the seaside town of Burry Port, there is plenty to keep people of all ages entertained.
Prices start from £22.90 per night based on two adults sharing a standard pitch