The Caravan Club becomes an official sponsor of Surfing GB
09/03/2016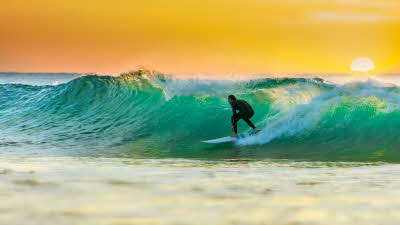 The agreement builds on a flourishing and ongoing relationship between Surfing GB and The Club, which has supported previous National Championship events and whose Club sites provide an ideal accommodation solution for surfers.
The Caravan Club is always encouraging its members to get out and enjoy the great outdoors, and surfing is a great way to explore the UK's many beaches. The Club also has their free TCC Site Surf app, where members and non-members alike can browse the best Club sites within reach of the UK's most popular surfing spots.
As competition structure plays a vital role in developing British surfing performance, The Caravan Club have also pledged their support to the high profiled British School and British National Surf Championships and will be the new headline sponsor of both.
Harvey Alexander, Director of Marketing at The Caravan Club says, "We are excited to be working with Surfing GB again, it's a great way to highlight how many sites we have near to fantastic coastal locations that are ideal for surfers. The Caravan Club and Surfing GB have a shared vision of encouraging people to be active and discover hidden gem destinations in the UK – and surfing is an amazing way to achieve this. There is no membership requirement for campers who want to pitch up at over 40 Caravan Club sites."
The Club's site network includes around 200 sites, over 40 of which have camping areas and nearly all have electric hook-up and shower facilities to make sure surfers are warm and well catered for, with plenty of space to dry a wetsuit.
Alex Williams, Surfing GB Director said "Surfers are explorers at heart, it's entrenched in the very nature of the sport and naturally we use caravans, motorhomes and trailer-tents as a flexible, convenient and affordable solution to travelling with comfort. This relationship solidifies that and we are excited to work with an organisation that shares in our values and ethos".
For further information and details on The Caravan Club's membership visit our homepage.
---
Nikki Nichol
External Communications and Sponsorship Manager
The Caravan Club
01342 336 797 / 07771 834443
nikki.nichol@caravanclub.co.uk
Nick Rees
Operations Manager at Surfing GB
07711 263584
nick@surfinggb.com
Notes to editor

Champions of the great outdoors, The Caravan Club represents the interests of over one million caravanners, motorhomers and trailer tent owners across the UK.

The Caravan Club offers its members over 200 Club Sites and 2,500 privately owned places to stay, and provides all members with expert advice, overseas travel services, financial services and exclusive member offers and discounts.
Surfing GB is a not for profit membership based organisation offering services to Surfers. The organisation is structured to support the preservation and promotion of the UK's unique and diverse surfing culture. Find out more at http://surfinggb.com/