The Caravan Club Caravan Design Awards 2017 and Lightweight Leisure Trailer Awards 2017
26/10/2016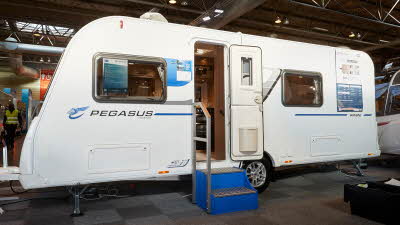 The results of the twenty second Caravan Club Caravan Design Awards and the fifteenth Lightweight Leisure Trailer Awards were announced at the NEC on Friday 14 October 2016. The awards were presented by Olympic athlete, Roger Black MBE.
Judging took place during the Motorhome and Caravan Show at the NEC in October. 69 vehicles were submitted for the Caravan Design Awards and 37 for the Lightweight Leisure Trailer Awards.
The purpose of the Awards is to provide guidance for Club members who are looking to change their current caravan or trailer tent. The Club's Awards results are always eagerly anticipated for this very reason.
The Caravan Design and Lightweight Leisure Awards offer fair, independent and objective assessments of the vehicles submitted for scrutiny. All caravan and lightweight trailer manufacturers and dealers are invited to submit entries.
The panel of independent Judges for the Caravan Design Awards follow rigorous scoring checklists. Judges assess everything from sitting comfort, standing headroom, kitchen design, storage, switches, wiring, security, repair and warranty arrangements to general safety.
Similarly, Judges for the Lightweight Leisure Trailer Awards assess everything from weights and measures to Thermal Insulation Grade and recommended tyre pressures. Further scrutiny awards merit for build quality, ease of erection and pull down, together with sleeping and living accommodation.
Grenville Chamberlain, Chairman of The Caravan Club, who announced the results commented, "Our sincere congratulations to all the worthy winners, and our thanks to the industry for their continued support of these competitions.
The information gathered in these competitions enables people to make informed decisions regarding their choice of leisure vehicle."
(Full details of entries for The Caravan Club Caravan Design Awards event will follow in November with The Caravan Club Lightweight Leisure Awards in December.)
- End -
Judges for Caravan Design Awards
Andrew Ditton – freelance journalist
Martin Dorey – journalist and television presenter
Nick Haynes – Events Committee, The Caravan Club
Martin Spencer – Technical Manager, The Caravan Club
Mark Sutcliffe – freelance journalist
Judges for Lightweight Leisure Trailer Awards
Barrie Livesey – The Caravan Club
Eileen Randall – Technical Advisor, The Caravan Club
Dave Rickard – Events Committee, The Caravan Club
John Thynne – Deputy Multi Channel Magazine Editor, The Caravan Club Magazine
_________________________________________________________________________________
Media enquiries
Nikki Nichol, external communications and sponsorship manager at The Caravan Club on 01342 336 797 / 07771 834 443 or email nikki.nichol@caravanclub.co.uk
Notes to editor
Champions of the great outdoors, The Caravan Club represents the interests of over one million caravanners, motorhomers and trailer tent owners across the UK.
For further information about becoming a member of The Caravan Club please visit www.caravanclub.co.uk or call 01342 318 813.