The Caravan Club champions road safety
25/01/2016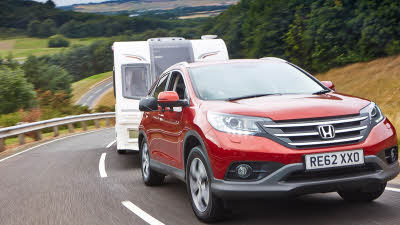 They're open to both beginners and experienced caravanners keen to refresh their skills and build their confidence ahead of their UK or European getaways.The Club has invested in 50 new caravans to support these fantastic training courses.
The Caravan Club has been a signatory to the UN Decade of Action since 2011, and aims to substantially reduce road deaths around the world. The 'Decade' has gained support from a broad base of stakeholders, including governments, government agencies, Fédération Internationale de l'Automobile (FIA), national motoring clubs, safety organisations, charities and companies.
The Caravan Club has made a specific commitment to provide caravan and motorhome training courses alongside an outfit-matching tool that tourers can use to ensure that they are safe and comfortable on the road.
The Club's training courses are designed to help drivers to feel secure in their abilities and include manoeuvring practice as well as advice on how to maintain and check your motorhome and caravan. All courses are led by friendly professional instructors at locations approved by The Caravan Club across the UK.
With three types of courses available, caravan and motorhome owners can choose from course locations up and down the country, including a new venue for 2016 at RSM Driver Training in Basildon, Essex where members can take advantage of the motorhome courses on offer.
To tailor its training, motorhome owners can use their own vehicles so they are completely comfortable. Caravan owners are required to bring their own car with The Club providing 50 purpose built Adria Altea 32 LH Fourth Style caravans.
Slavica Sterk, Managing Director of Adria UK has said: "We are delighted and proud to enable new customers to have their first towing experience with Adria caravans. With the Adria training fleet I'm sure that we will convince many customers to become caravanners."
Harvey Alexander, Director of Marketing at The Caravan Club said, "Providing training courses for new and experienced members is key to us ensuring that British holidaymakers are well-equipped with safety tips and manoeuvring advice to ensure that they feel confident and prepared ahead of UK and European getaways. We continue to offer courses at locations across the UK and are delighted to add the Basildon training centre for members in the Essex area."
For further information and details on how to join visit our membership pages.
---
Contact information
Nikki Nichol
External Communications and Sponsorship Manager
The Caravan Club
01342 336 797 / 07771 834443
nikki.nichol@caravanclub.co.uk
Rochelle Claxton
Communications Administrator
The Caravan Club
01342 779346
rochelle.claxton@caravanclub.co.uk

Notes to editor

Champions of the great outdoors, The Caravan Club represents the interests of over one million caravanners, motorhomers and trailer tent owners across the UK.

The Caravan Club offers its members over 200 Club Sites and 2,500 privately owned places to stay, and provides all members with expert advice, overseas travel services, financial services and exclusive member offers and discounts.