Victory for Volvo at Towcar of the Year 2019
19/09/2018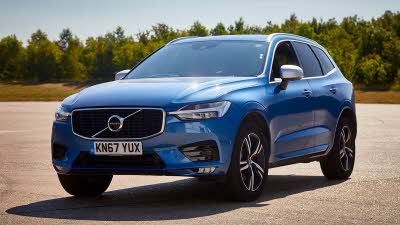 London, 21 September 2018: The Volvo XC60 D5 PowerPulse AWD R-Design has won this year's overall trophy, and also scooped two category wins in the Caravan and Motorhome Club Towcar of the Year 2019 competition.
The 36th edition of the industry's premier towcar competition features significant changes to previous years, driven by the Club's desire to provide the most relevant information for those thinking about purchasing a towcar.
New for this year, vehicles were put into caravan weight categories – rather than listing them by price – to make it easier for buyers to tell which cars could tow their caravans. Cars were entered into classes using their 85% kerbweight figure or by their towing limit, whichever was the lower. The Club also introduced two new categories – 'Best Family Towcar' and 'Best Large Family Towcar'.
The Volvo XC60 beat some very worthy rivals in the competition, claiming a well-deserved hat trick of titles. The Volvo took top spot in the new 'Best Family Towcar' category and the class for 'Caravan Weight 1500-1700kg' before clinching the overall title Caravan and Motorhome Club Towcar of the Year 2019.
The complete winners' line-up is as follows:
Caravan Weight Under 1100kg – Volkswagen Polo SEL 1.0 TSI 115PS DSG
Caravan Weight 1100kg - 1350kg – Peugeot 3008 Allure BlueHDi 180 EAT8
Caravan Weight 1350kg - 1500kg – Volvo XC40 D4 AWD First Edition
Caravan Weight 1500kg - 1700kg, Best Family Towcar and Caravan and Motorhome Club Towcar of the Year 2019 – Volvo XC60 D5 PowerPulse AWD R-Design
Caravan Weight over 1700kg – Volkswagen Touareg R-Line Tech 3.0 V6 TDI SCR 4MOTION 286PS Tiptronic
Pick-Up – Volkswagen Amarok Highline 3.0 V6 TDI 4MOTION 258PS Auto
Best Large Family Towcar – ŠKODA Kodiaq Edition 2.0TDI 190PS 4x4 DSG
The competition attracted 35 entries and each car was put through its paces at the Millbrook Proving Ground near Bedford, which provides a variety of testing driving environments. Manufacturers were invited to submit for testing any vehicle that was capable of towing a trailer over 750kg and on sale on 1 October 2018.
The Club's technical team thoroughly checked each vehicle before handing it over to the 'caravanability' and driving judges.
Caravanability judges tested whether a car's boot could swallow the bulky accessories normally needed on a caravan trip. They also measured the towball height, both solo and hitched up, and checked the towing information provided in the manufacturer's handbook.
The cars were then hitched up to caravans ballasted to 85% of their kerbweight, or towing limit if lower. Using specialised apparatus the technical judges then measured the cars' acceleration and braking capabilities. The car/caravan combinations were then passed over to the driving judges who set off around the Millbrook circuit to put the vehicles through their paces.
The cars were tested at speeds of up to 55mph on the 'Alpine route', which featured various gradients culminating in a 17% hill start and a 26% downhill brake test. The ability to join fast traffic from a standstill was also assessed.
Judges then took the vehicles to the high-speed bowl to further assess their capabilities at speeds in excess of UK legal limits. In the safety of a controlled environment, the judges could induce some instability at 60mph to see how the cars reacted. The vehicles were also put through reversing examinations. All-important issues of driver and passenger comfort and visibility were also assessed.
The results of the competition were announced at the Caravan and Motorhome Club Towcar of the Year Awards ceremony, held at the Royal Automobile Club in London on 21 September. The awards were presented by journalist and TV presenter Matt Allwright, who also spent time at Millbrook to see how the judging process was carried out.
Grenville Chamberlain, Caravan and Motorhome Club Chairman, said: "Here at the Caravan and Motorhome Club we are committed to driving forward positive change within the motoring industry and to providing our one million members with relevant information for them to use as they make their next towcar purchase. Our congratulations go to all the winners."
Matt Allwright commented, "This was my second time being at Millbrook Proving Ground for the competition. It was great to see how the event continues to evolve in order to get the best independent information for car buyers. The testing is so thorough, the winners should rightly be proud of their achievements."
Simon Howard, Marketing Director of Bailey of Bristol, which provides the caravans for the event, said, "Vehicle testing for the Caravan and Motorhome Club Towcar of the Year competition really is leading the way. We are extremely proud to have been supplying the caravans for testing for over 20 years."
For more information about the Caravan and Motorhome Club Towcar of the Year competition please visit https://www.caravanclub.co.uk/towcar/.
For further information and details about the Caravan and Motorhome Club visit www.camc.com
-Ends-
Media enquiries
Nikki Nichol, External Communications and Sponsorship Manager at the Caravan and Motorhome Club on 01342 336797 / 07771 834443 or email nikki.nichol@camc.com
Notes to editors
Champion of the great outdoors, the Caravan and Motorhome Club represents the interests of over one million caravan, motorhome and trailer tent owners across the UK. Founded in 1907, the Caravan and Motorhome Club has 111 years' experience and prides itself on offering great value and high quality sites for caravanners and motorhomers.
For further information about becoming a member of the Caravan and Motorhome Club please visit www.camc.com or call 01342 318813.
Driving Judges: Deborah Black, Events Committee member; Lesley Harris, motoring journalist; Andrew Ditton, specialist press journalist and blogger; John Harris, Events Committee member; Dan Cartwright, Caravan Times; Mark Sutcliffe, specialist press journalist and John Sootheran, Warners Group Publications.
Caravanability Judges: Caroline and Keith Rogers – Caravan and Motorhome Club expert course instructors.
Thanks: The Caravan and Motorhome Club would like to thank Bailey of Bristol for supplying all the caravans used in the competition, and for providing staff on site throughout the event. The Bailey team ensured the caravans were correctly ballasted, that their noseweights were kept in trim and that they were in general good working order. Thanks also to AL-KO who ensured brakes were adjusted, wheels were kept tight and all undergear was properly fettled.