Turiscampo Winter Holiday
Turiscampo Winter Holiday
En 125, Espiche, Lagos, 8600- 109, Portugal
View on map
Why stay here ...
Running from 8th January to 26th March 2022 our Long Stay Winter Sun hosted holiday is ideal for anyone who wants to escape the British Winter and spend up to 77 nights at a sunny spot in Portugal at a great price. Our dedicated clubs hosts will make sure you enjoy a wide range of activities and give tips on exploring the local area or simply let you relax in the sun. Make new friends whilst enjoying a great stay, there is something for everyone.
The hosted holiday is only bookable through the contact centre under the code E07W, please call us to speak to our friendly Travel Service team on 01342 488 102.
A little about the site:
Turiscampo is an exquisite campsite with a beautiful Algarve location, offering a fantastic indoor heated pool, a modern gym, sauna, hammam and beauty treatments (a charge is payable to use the gym and spa facilities), boules area, indoor and outdoor fitness park. The site runs an extensive activities programme, such as Tai chi/ streching classes, bingo, Portuguese lessons, walking pets, nordic walking, fish and chips, Mexican and Indian food nights, music, karaoke and disco nights.
Activities are subject to availability, some have extra charges payable locally and there may be amendments to this to accommodate social distancing requirements.
The site has almost everything guests may need for a long stay but those wishing to get out the pretty seaside village of Luz is well worth a trip for its stunning beach and delightful cafés. A bus service operates to Lagos and Sagres from the site entrance. Keen golfers can enjoy a round of one of the many courses, which have lovely views of the open countryside, vineyards and coastline.
Excursions to popular towns such as Lisbon and Algarve can easily be arranged, boat trips and wine cellar visits also available at reception.
Tourist attactions and excursions
Espiche (150m), Lagos (6kms), Burgau, Praia Luz, Cycling routes, Supermarkets (on site or Espiche), neares beach - Praia da Luz (2.5km - safe to swim)
Know before you go
To help you stay informed about your holidays abroad check our Useful information section on our website here
Prices
Useful Info
Latest arrival time - low: 8:00 PM
Latest arrival time - high: 10:00 PM
Earliest departure time - low: 7:00 AM
Earliest departure time - high: 7:00 AM
Map
Directions
From the A22 take exit 1 signed Lagos/Vila do Bispo on the N125. Continue over 1st roundabout and take the 1st exit at next two roundabouts (SP Sargres/N125) Site entrance will be on the right 800m after 3rd roundabout.
Sites key: Overseas Site
Postcode:

8600- 109

Region:

Portugal

Distance to Calais: (kms)

2251
GPS:

Lat 37.102434 / Lon -8.734018

Michelin map no.

733
Transport links
Buses go to: Praia da Luz, Lagos

Daily public transport within 2 kms

Nearest port: Santander (999 kms)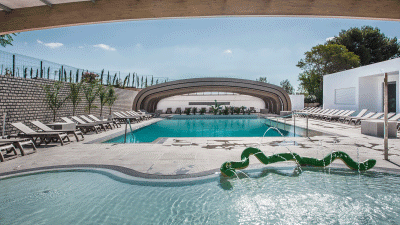 .12 miles