L'Orangeraie Calig
(REF : E43)
Camino Peñíscola-Cálig, Lista de Correos, Cálig/Castellón, 12589, Spain
View on map
Why stay here ...
In the heart of Costa del Azahar between Valencia and Barcelona, the Orangeraie Campsite welcomes you on its green grounds only a few kilometres from the sea.
Located in the traditional village of Càlig near beautiful Peñiscola, the 3-star Campsite
is an ideal destination to enjoy the Spanish sunshine.
Activities are organised during July and August including aquagym sessions, shows,
folk-dancing and demonstrations of falconry.
Around and About
Peniscola, Castle, Mountains, Playa de Benicarlo.
Prices
Useful Info
Latest arrival time - low: 9:00 PM
Latest arrival time - high: 9:00 PM
Earliest departure time - low: 8:00 AM
Earliest departure time - high: 8:00 AM
Map
Directions
AP 7- Exit 43 Peniscola-Benicarlo then follow Peniscola Roundabout, first right onto Cami.
Direction Càlig 10 minutes. N340 Exit Benicarlo -Calig CV 135
Sites key: Overseas Site
Postcode:

12589

Region:

Spain

Distance to Calais: (kms)

1531
GPS:

Lat 40.455591 / Lon 0.353408

Michelin map no.

0
Transport links
Nearest port: Bilbao (549 kms)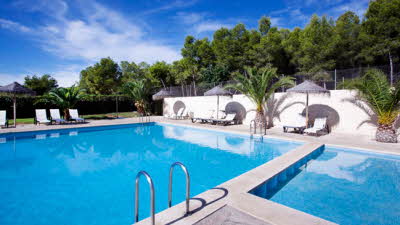 13.06 miles