The Big Little Tent Festival™ is back!
06/07/2017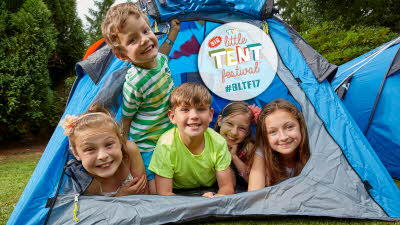 Join us from 22 - 23 July and experience the magic of the great outdoors, pitch your tents in your own back garden and host your own summer festival on your own terms. Invite friends and neighbours to attend and join in the fun – have a BBQ, play some music, string up the fairy lights, tell stories and inspire the whole family to enjoy the great outdoors (but with the facilities of your own home within walking distance!).

Register for your free festival pack
We'll supply the bunting, flags and wristbands to complete your festival experience. Simply register for your free festival pack, and we'll send you everything you need to get the party started.
What's more, by registering for your pack you have the option to be entered into our prize draw to win a European camping holiday for four, including tent and ferry crossing.
Make your festival your own
There's plenty to do in your back garden – why not try some activities with your friends:
face painting;
hunting for creepy crawlies;
make your own burgers;
build a bug hotel;
host a talent show
So what are you waiting for? Pitch your tents, light up your BBQs, string up your bunting and celebrate the great outdoors with your very own Big Little Tent Festival™ today, and share your photos with us on social media using #BLTF17
Follow Big Little Tent Festival™ on Facebook, Twitter and Instagram.
For more information and to register for your packs, visit the Big Little Tent Festival™ web page.