A great big BLTF thank you!
04/09/2015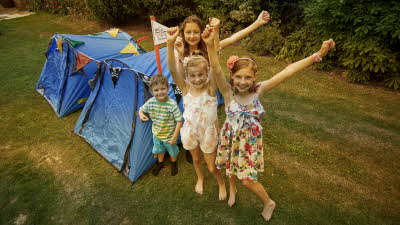 We'd like to thank all the families across the UK who joined us for the fun. It was wonderful to see that the Great British weather didn't rain on your parade.
From gazebo parties, bacon sandwiches to nature walks and shadow puppets, thank you for sharing your memories with us on Facebook.
Some of you were also toasting marshmallows, playing games with glow sticks, cooking yummy campside meals and bat spotting!
Getting children outside
The Club invited families up and down the country to join in a one-night festival camp-out, in their own back garden.
Our aim was to get children outside and enjoying nature, with help from The Woodland Trust and with some tempting offers from Riversway Leisure and Westin Gourmet.
We gave away hundreds of Festival Packs with bunting and wristbands and scores of you entered our competitions to win fantastic prizes including a European camping holiday for four people.
Thank you to our amazing official festival bloggers including Tin Box Traveller; Free Range Family; One Dad Three Girls; Are We Nearly There Yet, Mummy; Sticky Fingers and others for writing about their own Big Little Tent Festival experiences.
We can't wait for you to join us again next year for another tent festival extravaganza!