Changes to emissions regulations
20/08/2020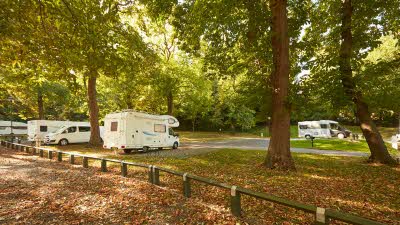 Abbey Wood Club site sits within the Low Emission Zone
Will forthcoming changes to London's emission regulations mean I can no longer keep my campervan at home?
It's not just campervan owners who need to watch out. If you live in or plan to visit London next year, you need to check the implications.
The first change affects motorhomes over 3.5 tonnes gross weight, which must meet the Euro VI standard from a planned date of 1 March 2021 (to be confirmed later this year) to enter the Low Emission Zone without payment of at least £100/day. That generally means those registered from 2014 onwards. This zone affects not only largely residential areas, but the Club site at Abbey Wood, and the one at Crystal Palace if the lease on that is extended for 2021 by the local council.
A more significant change comes from 25 October 2021. The current Ultra Low Emission Zone (ULEZ) operates over a relatively small area of central London, like the Congestion Zone. It's expanding to an area bounded by (but not including) the North and South Circular roads, bringing many predominantly residential areas into its scope.
ULEZ requirements affect petrol and diesel cars as well as motorhomes. For cars, the required standards are Euro 4 for petrol and Euro 6 for diesel, generally meaning cars registered from 2006 or 2015 respectively. For campervans and motorhomes, diesel standards are Euro 6 for smaller vehicles (from 2015) and Euro VI for larger ones (from 2016). Check an individual vehicle carefully as some manufacturers introduced these standards ahead of the mandatory dates.
The ULEZ daily charge is currently £12.50, or £100 for vehicles over 3.5t. Make sure you do pay it, as penalties are currently £160 (£1,000 if over 3.5t), and will be higher still for motorhomes next year – between £500 and £2,000.
There's no residents' discount either. Transport for London (TfL) considers residents have had sufficient notice of these plans to change their vehicles, and it's true the expansion plans were outlined before the ULEZ was first implemented in 2017. For ordinary cars replaced regularly, this is perhaps a reasonable period of notice. For vehicles with longer service lives such as motorhomes or cars used mainly just for towing, it's more challenging. Note that 'historic' vehicles (defined as over 40 years old) are exempt from ULEZ charges.
Over nearly 15 years, from the earliest plans for the Low Emission Zone, the Club has made representations to TfL regarding its scheme's fairness for low-mileage, long-service-life vehicles, and particularly for motorhomes owned by Club members resident in London. TfL has always listened politely to our arguments (and those from other user groups) but refused to offer any general exemption. The singular exception is the general exemption won by the Showmen's Guild for fairground vehicles. Regarding the ULEZ expansion, the opportunity to raise concerns around this was during the consultation period in late 2017/early 2018.
More to come...
Such restrictions are becoming ever more commonplace across Europe, and there are plans for several further UK schemes, some of which will affect motorhomes and, in some cases, cars too. The argument for air quality improvement is hard to challenge, although we do request mitigations for vehicles with relatively low impact, such as those visiting briefly for holiday purposes. If you are a resident in or regularly visit a major urban area, however, you should anticipate seeing increasingly common restrictions in years to come.
See tfl.gov.uk/modes/driving/ for further details. Birmingham and Leeds are the next areas to implement clean air zones from early 2021, with Birmingham's inner city centre scheme having similar rules to the London ULEZ, and Leeds having a scheme targeted at HGVs, buses and taxis.
See gov.uk/check-clean-air-zone-charge to check if a vehicle is affected by these zones.
Club members can address their technical questions, quoting their membership number, to: technical@camc.com or 01342 336611