Club website wins gold at Memcom
19/05/2014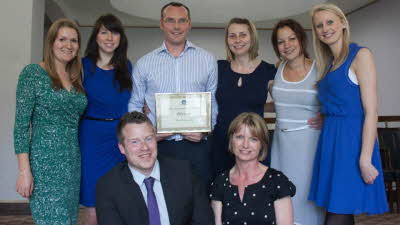 Knowing that we had been shortlisted – an achievement in itself – representatives (pictured) of the Digital Media and development teams attended the London awards lunch on 30 April in hope and trepidation. Andrew Morris went up to collect the award from Chief Executive of the Chartered Institute of Marketing, Anne Godfrey.
Judges praised The Club in their comments below.
'Their goal was to save members' time and make it easier to self-serve - to enable users to get out and enjoy touring. Result: the Club website now attracts over 11 million users annually. Since the site redesign, unique visits increased by 14% year on year'
Other organisations represented at the awards included the Society of Biology and the National Union of Rail, Maritime & Transport workers (both in the same category), the Zoological Society of London, the Chartered Institute of Management Accountants and the RAF Museum.
"This is wonderful recognition for the team of Digital Media and IS colleagues who worked so hard and well together to deliver the new website in September 2013, which included new look and feel, improved navigation and improved ability to self serve," commented Catherine. "Work doesn't stop there however. There's plenty to do to ensure our website is truly reflective of an industry leader, is fully device responsive (mobile friendly), personalised, and offers functionality that provides the best user experience. But I'm very proud of what everyone has achieved so far."
More improvements will follow, with information on these as and when they are ready being made available both in The Club Magazine and online.