Eurotunnel Folkestone and Calais security update
25/07/2016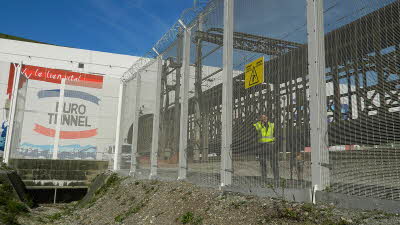 Eurotunnel invited The Club for a behind-the-scenes tour of its terminals in Folkestone and Calais to show us, and you, the measures that have been introduced to improve security.
In the light of high-profile stories in the national press recently about the migrant crisis in Calais, some Club members have voiced concerns about travelling with their caravans or motorhomes to France.
During our visit, they explained to us that migrants were targeting freight and commercial vehicles and were confident that no migrants had been found hiding in passenger cars, motorhomes or caravans. However, the disruption to services has had an impact on both their tourist and commercial freight customers.
In an attempt to discourage migrants from travelling to its Calais terminal in the first place, Eurotunnel has distributed leaflets to the migrant camps outlining the risks associated with their often dangerous attempts to travel illegally to the UK.
A number of measures have also been introduced, including:
Clearing forestation and digging moats which are designed to make it more difficult for people to hide near the terminal.
Secure parking areas have been created to reduce the traffic queueing back to the motorway at peak times – and, therefore, reduce the opportunities for migrants to attempt to board the vehicles.
A 38km of four-metre high security fencing (pictured) has been installed around the perimeter of its Calais site.
Daily meetings are held to assess the situation.
An additional 250 security staff has been recruited – mobile French police are on duty too.
These measures are in addition to the existing infrared detectors, 400 CCTV cameras and thermal detection devices on site.
Additionally, new scanners for cars and trucks have been installed in France and the UK. These are to help detect anyone hidden from view and a certain percentage of cars and trucks are chosen for a full scan each day.