Introducing the Ferry Meadows super playground
14/04/2016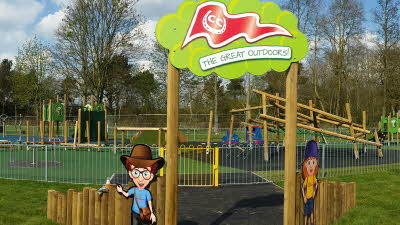 The hard work has paid off and the fun is ready to start on Friday 29 April - perfect timing for an early May Bank Holiday break.
The Club and team at Ferry Meadows Club Site in Peterborough have worked hard to create an adventure playground that kids of all ages can enjoy; to make those family holidays extra special.
Great for all ages
The new addition to the site boasts some of the best equipment on the Club network and brings the excitement of exploring the great outdoors to your doorstep. The new facilities are sure to be a hit, whether your kids are tots or teens.
There are multiple areas to explore where kids can climb high across nets and wooden beams, scale the mini rock climbing wall, before sliding back down to explore the tunnels, swings and spinners. Some of the new equipment is wheelchair accessible, so everyone can join in with the fun.
There is also a space designed especially for ball games, so children can play together in an environment where parents feel they are safe.
Be the first to try it out!
If you and your family want to be the first to experience the newest adventure to be had at Ferry Meadows Club site, now's the time to book your pitch, so you can see it for yourself!