Forth Bridge Balbirnie Park to Edinburgh
03/09/2015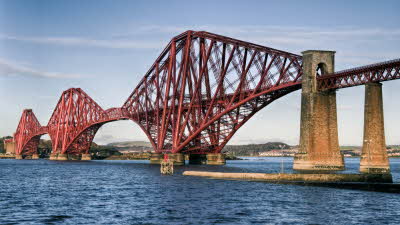 The bridge is the sixth site in Scotland to gain the prestigious status, along with the Heart of Neolithic Orkney, New Lanark, The Antonine Wall, the Old and New Towns of Edinburgh and St Kilda.
The bridge opened in 1890 and is one of the most recognisable examples of engineering in the world. It spans the estuary of the River Forth, connecting Fife and the Highlands and islands of the north to the Lothians and City of Edinburgh to the south.
To see this feat of ingenuity, travel the line into Edinburgh from our Balbirnie Park Club site near Fife. The site is located just 10 to 15 minute's walk from Markinch station, with links to Edinburgh, Dundee and Perth.
Forth Bridge facts
The Forth Bridge stands 110 metres high, is 2.53 kilometres long and was the longest bridge in the world when it was opened.
It was considered to be at the foremost of innovation when it was built, and its new status means it will be protected.
The steel structure has around 200 local and intercity trains crossing it every day, making it a key part of the national East Coast mainline.
Book your stay at Balbirnie Park Club site.