Get back in the saddle this summer
28/05/2015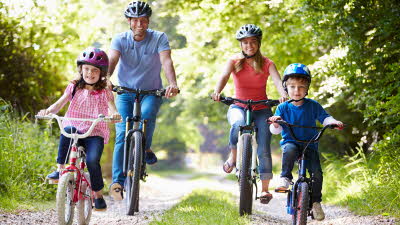 I know starting up a new activity is sometimes daunting, even getting back in the saddle when you haven't ridden for a while can give you the butterflies. To help you settle those pre-ride nerves, I've come up with some advice to help you overcome the things that may be making you anxious about getting back in the saddle this summer...
Feeling unfit or nervous about your cycling ability?

Be sure to choose a route classed as easy - short to start with, then build up your confidence. You'll be surprised how quickly your confidence and fitness increases.
Concerned about traffic and road safety?

Do what you can to ensure you can be seen, with luminous or reflective strips on clothing or backpacks. Make sure you wear a helmet and ride with confidence.

Use hand signals and make eye contact with drivers to give them warning of manoeuvres.

If you really hate the idea of mixing with traffic, check out the National Cycle Network traffic free routes.
Fearing that saddle sore feeling?



Invest in a gel seat or a pair of cycling shorts with padding – they really do make a lot of difference.

Worried about how confident you are about mending a puncture?

Thankfully, punctures don't happen often, but when they do they are easy to fix yourself. Reduce the risk of a puncture by ensuring your tyres are always fully inflated. For advice on fixing a puncture visit Sustrans bike maintenance pages.