Get ready to book your 2018 summer holidays!
19/10/2017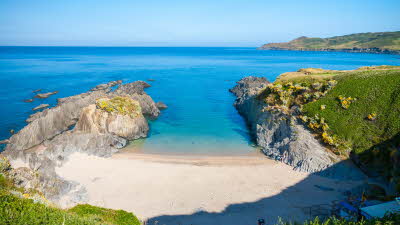 It's time to start planning next year's break - UK Club site pitches from 16 March 2018 will be available to book from 8am on Wednesday 6 December.
You can start booking next year's getaway on Wednesday 6 December with UK Club site pitches for stays from 16 March 2018 to 4 January 2019. If you'd like to check 2018 pitch prices, we've produced a pricing supplement PDF that you can view online.
On launch day (Wednesday 6 December), users will be given 10-minute 'slots' to make each booking. We have to limit time spent making a reservation to be fair to all users and keep the system running smoothly. We recommend you have a list of your preferred sites and dates – as well as alternatives – to hand.
(Pictured above - Barricane Beach near Willingcott Club Site)
Things to remember
You can sign in to 'My Profile' from 7am on 6 December.
Bookings can be made from 8am on 6 December.
From 7am on the day, you will see a simplified version of the home page, giving you the option to sign in, book a UK site (from 8am) or browse the website.
Only one booking can be processed at a time – once you have made a reservation you will be taken back to the home page. As soon as another slot becomes available you can start to make another booking.
Successful bookings will appear within 'My Profile'. You will receive an email confirming your booking within 24 hours.
Where open, you will be able to book site stays up to 4 January 2019.
There will be no access to UK site bookings online, via the Contact Centre or the site network on 5 December.
There will be no access to UK site bookings via the UK Sites App on 5 or 6 December. Normal service on the UK Sites App should resume no later than 10am on 7 December.
You will not be able to book through the sites directly on 6 December.


Other ways to book
You can, of course, still call the Contact Centre to make your bookings on 6 December. We will answer calls as quickly as possible but please bear in mind that lines will be particularly busy, especially between 8am and noon.
Sites redevelopments
We are continuously delivering a programme of redevelopment work to ensure our sites are maintained to the highest standards, which means some sites, including Buxton, Tewkesbury Abbey, Troutbeck Head and York Beechwood Grange will be opening slightly later than usual. Find out more about our recent and ongoing redevelopments.


Don't forget...
You can still book now for stays up to 15 March 2018 and many of our sites are open all year round.