Glamour vanning a South Bank success
02/04/2014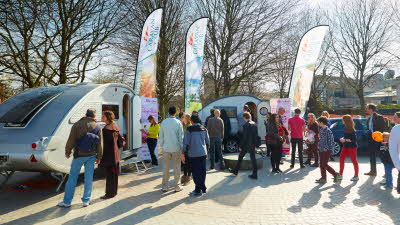 Many people's perceptions of caravanning are still stuck in the beige days of the seventies, so to shake of those images and see what's changed there was a display of aesthetically pleasing and funky new caravans - the innovative new T@B travel trailers. Their unique seamless aluminium insulated shell construction offers high quality external and internal fittings, making them the perfect vehicles to use as holiday bases, whether going on wild bungee jumping holidays or simply enjoying the peace and tranquillity of the countryside.
Activities and entertainment
Seeing caravans in such a unique location was just the beginning of what was on offer during the Glamour vanning event. The Club teamed up with the gorgeous people at Fabyouless Card which enables people to enjoy a 25% discount at over 1200 leading beauty salons, nail bars, hairdressers, spas, clinics, gyms and personal trainers - nationwide. During the weekend a beauty therapist from Fabyouless offered free ten minute treatments and consultations to people who came along, which was an ideal treat for Mother's day and enjoyed by many visitors.
There was also some fantastic entertainment throughout the weekend, singer Talia Janson, who toured with JLS on their Stadium Tour and who is currently starring in the new TV series 'Surrey Hills', performed for the crowds on both Saturday and Sunday.
"The Club's 'Glamour Vanning' event on London's South Bank this weekend was a great success. Thousands of people saw the T@B caravans at the iconic London location and were amazed at the luxurious and well-designed facilities of modern day caravans. The weather was exceptional for a March weekend, the sun shone both days and I think it gave people a real feel for what a caravan holiday could be like."
Nikki Nichol, Head of Publicity and Industry Relations for the Caravan and Motorhome Club