Go explore
28/05/2015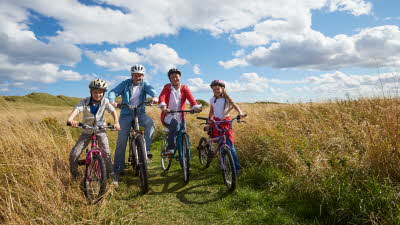 To celebrate the long standing success of the network, from May to September, Sustrans are hosting lots of special community walks and rides on the network to inspire people to get out and explore their local surroundings.
Led by Sustrans volunteers, the rides will be suitable for a range of ages and abilities and will cover a variety of stunning locations, often passing through National Parks or Areas of Outstanding Natural Beauty.
June Events
South
6 June | 7pm | 7.45pm | South West
"The ride is at dusk and at night and takes you along the beautiful Exe Estuary. Includes barbecue, music and fireworks"
Stay at: Exeter Racecourse Club site
NCN 20th anniversary led ride and party
20 June | 3.30pm | South East
"Rides are along flat, National Cycle Network routes. Tea and birthday cake provided at party. All routes are generally free of hills."
Stay at: Bladon Chains Club site
Midlands
13 June | 9.45am | West Midlands
"Ride around the quieter roads and cycle paths of Redditch at a leisurely pace along this easy route including a café break part way along."
Stay at: Chapel Lane Club site
North West
Four day Morecambe Bay Cycle Way ride
11 June - 14 June | North West
"Take time to stop to drink in the awesome views, sample mouthwatering food and see the Bay's history and heritage come alive."
Stay at: Meathop Fell Club site
11 June | 10am-5pm | North West
"Aimed at those new to touring and long distance cycling and will be at a leisurely pace, taking the pace of the slowest rider."
Stay at: Meathop Fell Club site
Yorkshire
19 June | 7.20pm | Yorkshire
"An evening pub ride to Riccall along the Solar System Greenway, lasting approximately two and a half hours."
Stay at: York Rowntree Park Club site
20 June | 9.30am | 10am | 11am | Yorkshire
"A short city centre ride for discovering more of York's history, a family friendly ride and a slightly longer, largely off-road ride."
Stay at: York Rowntree Park Club site
21 June | 11.15am | Yorkshire
"Ride out to York University's Sports Village for the opportunity to watch racing at the velodrome and possibly have a go yourself."
Stay at: York Rowntree Park Club site
To find out what else is on and for more information about the walks and rides happening near you go to: www.sustrans.org.uk/events.