Grantown on Spey wins Best caravan site award
18/06/2015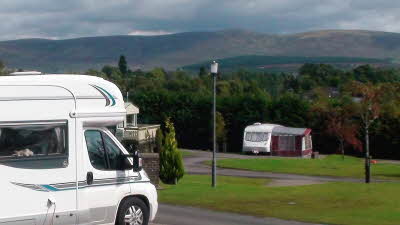 The Scotland-based site won the coveted award by ranking highest of the top 100, as voted for by over 13,000 caravan, motorhome and camping enthusiasts. Grantown-on-Spey also scooped the top spot in the 'Best Regional Site' in Scotland and the 'Best Open-All-Year Site' category.
Get the most out of Grantown-on-Spey
Grantown-on-Spey is set in the heart of the Scottish Highlands within the beautiful Cairngorm National Park. Just a short stroll from the little town from which it takes its name, Grantown-on-Spey is a haven for wildlife. Local attractions include a golf course and anglers can fish in the River Spey. The site is of the highest quality and is one of only eight premier parks in Scotland.
Super-pitches and fancy features
The site's super-pitches are extra spacious and include free Wi-Fi, and even a Sky TV box for great TV reception. Fine details such as under floor heating in the shower block, on-site shop and games room really make this a superior site, and a fitting winner of the Best UK Caravan Site 2015 Award.
The awards are based on feedback on a site's quality by readers of Practical Caravan, Practical Motorhome, and the Caravan Sitefinder website. The comments are then considered by a stringent panel of experts who rank the finalists in each category. The Top 100 Sites Guide is the go-to information source for anyone looking to get the most out of their holiday.
Book a stay at the UK's best site or find out more about beautiful places to stay in Scotland now.