Super playground launch
12/05/2016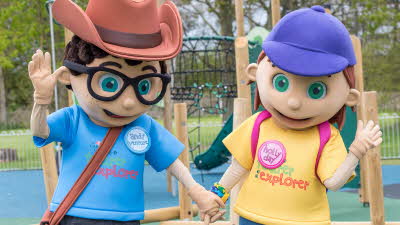 We'd love you to join us and be one of the first to try it out!
If you book a break with your family that includes Saturday 21st May, you can be part of our grand opening. The celebrations run from 2pm-4pm, during which time there'll be free ice cream, fun with the Tourer Explorer gang and the opportunity for your kids to test out the brand new equipment and games area.
Tourer Explorer
Kids can meet and play with our larger than life Tourer Explorer characters, Holly Day and Andy Venture, who will be paying us a visit to join in the celebrations. There will also be fun toys available for kids to buy with their pocket money as a memento of their day.
The Club and team at Ferry Meadows Club Site in Peterborough have worked hard to create an adventure playground that kids of all ages can enjoy; to make those family holidays extra special.
The new playground has state of the art equipment, including climbing nets, wooden beams for balancing on, a mini rock climbing wall to conquer, tunnels to crawl through and swings and spinners. Some of the equipment is also wheelchair accessible, so everyone can join in the fun!
The new playground is a safe and fun way for kids to enjoy their time on site. There's even a space for ball games and a quieter area for parents to relax and chat while the little ones enjoy themselves.
Be there on the day
To join us for this special occasion, just book your pitch at Ferry Meadows Club site. Remember, the fun starts from 2pm - we hope to see you there!