The great caravan challenge
28/02/2014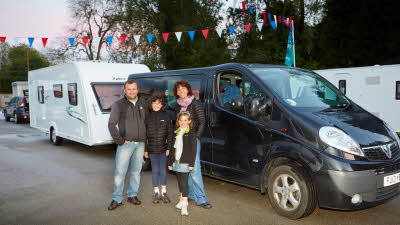 Activities such as kayaking, finding a waterfall, red squirrel spotting, foraging for a meal and spending a night in a hammock were on the list. By October the girls had completed all 100 challenges and only watched a maximum of three hours of TV a week.
The Xplore Challenge 2014 with the Meek family
After reading about the Meeks, The Caravan Club has teamed up with Co Durham-based leisure vehicle manufacturer Elddis to set the family another challenge for 2014 to undertake 20 caravan holidays.
To succeed in their task, the Meeks must visit Caravan Club sites in England, Wales and Scotland - and complete a number of outdoor activities along the way. Follow the Meeks' adventures in future issues of The Club magazine, on The Club website and on Club Together, our popular online forum and why not create your own family challenges?
Watch the video
Watch as the Meek family are handed the keys their new Xplore van, ready to begin the Xplore Challenge 2014!
Find out more about The Xplore Challenge with the Meek family in the video below.
Family breaks
Use our online search and book tool to find the perfect place to stay with your family.