What's your new years resolution?
03/01/2014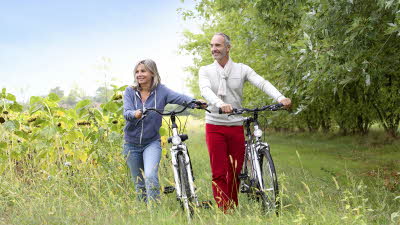 Perhaps you feel that you didn't take the 'van out much last year and deserve a few more caravanning holidays? Maybe you are feeling adventurous and would like to holiday in hotter, sunnier locations? Or are you interested in beginning some new hobbies or activities, be it fishing or walking?
Whatever your new year goals may be, your Club is here to help whenever you need us.
Staying fit and active
Cycling
Around half of all Club sites are located within a mile of a National Cycle Network Route, and many more being within five miles, so there's bound to be a great route for you to explore from your holiday destination. You can even plot, save and share your favourite routes using the Sustrans free, online mapping facility. Find out more on the partnership between The Club and Sustrans...
To find a site that's near to a cycle route, you can filter your results by ticking 'Within 5 Miles of National Cycle Network' when you search and book.
Walks and hiking
If you enjoy walking and hiking or would like to explore more of the great outdoors, we have some sites situated in stunning locations and next to beautiful and captivating countryside. May we recommend:
Recommended dog walks
We have some lovely spots to take your dogs for walks on site and nearby. Here are just a few popular choices, as suggested by fellow members:
...As recommended by our members - read the Club Together Dog Walks discussion
Fitness hubs and sporting activities
Several of our sites are bustling with activities as well as being perfectly situated next to sporting and fitness facilities.
We recommend:
Time to relax
Peaceful sites
We have a number of peaceful sites dotted all over the country, found mostly in rural locations, so they're perfect for relaxing breaks exploring the local countryside and attractions. Many of our peaceful sites are great value for money and start from £12 a night.
Our CL network
Certificated Locations (CLs) are little caravan sites that only hold up to 5 'vans at a time and are exclusive to Carqavan Club members. We have over 2,500 Cls situated all over the United Kingdom, offering picturesque rural settings and a relaxed atmosphere.
Take the 'van abroad
If you are completely new to touring overseas, we have some excellent first time abroad information that will help you find answers to all of your questions.
We also have some fantastic first time abroad tours:
Enjoy day trips discovering the region as well as group meals and free time to explore the sights at your own pace.
Explore the delights that Holland offers, including the vibrant city of Amsterdam, whilst staying at the natural, peaceful Koningshof.
Sail to the popular region of Nord-Pas de Calais on this 9 night holiday. Enjoy your surroundings at your own pace.
If you are in need of inspiration, take a look through our Continental Caravanning brochure at all of the wonderful sites and tours we offer.
Engage more with the Club community
Join a centre
Become a part of a centre and get to know fellow Club members at gatherings and events. Held over a weekend or longer, you can do as little or as much as you like. Maybe take advantage of the local countryside, visit a stately home or local attraction, or join in a sporting activity. Perhaps you'd prefer to just sit comfortably and relax; it's your choice. You can pursue your interests as well as spend time with likeminded caravanners.
There are 70 Centres throughout England, Scotland, Ireland and Wales and they are the core of The Club community. See what your local centre has to offer.
Interact online with Club Together
Join in with our online caravanning community Club Together. You can write site reviews, create stories and contribute to discussions on your chosen caravanning topics and experiences.
If you are yet to make a first post, you could start by introducing yourself in Club Together. There is a whole section with many discussions running where you can greet fellow contributors and champions.
Related discussions: