Winners of The Club 2014 Motor Caravan Design and Drive Competition
19/05/2014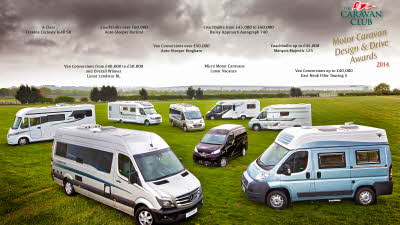 This motorhome also picked up first place in its class for Van Conversions from £40,000 to £50,000.

The Motor Caravan Design and Drive awards are run by the Club each year. The purpose of the award is to test and evaluate the latest motorhomes, including their design, level of comfort, construction and handling. This provides information that may help members make informed choices when buying a new motorhome. The 'vans are categorised by class and this year 32 vehicles competed for first place. Here are this year's winners:
Lunar Vacanza (Micro Motor caravans)

East Neuk Fifer Touring S (Van Conversions costing up to £40,000)

Lunar Landstar RL (Van Conversions from £40,000 to £50,000 and

Overall Winner)

Auto-Sleeper Kingham (Van conversions over £50,000)

Marquis Majestic 125 (Coachbuilts costing up to £45,000)

Bailey Approach Autograph 740 (Coachbuilts costing between £45,000 and £60,000)

The Auto-Sleeper Burford (Coachbuilts costing over £60,000)

Frankia Exclusiv I640 SD (A Class vehicles).
For the first year running, Micro Motor Caravans joined the competition and a brand new award was added ... the Dougal Dog-Friendly Motor Caravan Award which went to the Shire Conversion Phoenix 2XL.
Club Chairman Grenville Chamberlain said, "It is primarily for Club members that all of this work is undertaken, helping them with their buying decisions. Furthermore, The Club is also continually endeavouring to support the industry, and by making this information available it hopes to encourage members to make informed choices about today's new motorhomes as well as tomorrow's used vehicles. We are delighted the Club Motor Caravan Design and Drive Competition continues to receive such great support from the industry. Our congratulations go to all the winners in this Competition."
Find out more information in the upcoming June edition of the Club Magazine.