Venue details
Venue information
Situated in the heart of Shakespeare Country visitors of the 2019 National are special guests of Ragely Hall, Park & Gardens in Alcester for the Spring Bank Holiday. Here you can immerse yourself in the charm of the stunning house and gardens, whilst finding opportunities to eat, cycle or walk around the grounds.
About Ragley Hall
Ragley Hall, Park and Gardens has been the family seat of the Marquis of Hertford since the eighteenth century, an Earldom that dates back over 1000 years.
Step back into the past as you discover the stories behind one of the UK's oldest aristocratic families and find out how Ragley has changed throughout the generations.
26 acres of mature formal gardens and hundreds of acres of stunning parkland created by Capability Brown, with woodland wildlife walks, beautiful contemporary sculpture and views for miles over Warwickshire countryside.
As well as the house and gardens, parkland and estate, Ragley is a thriving business with farm, farm shop and other countryside businesses.
Visiting Ragley Hall, Park and Gardens
Guests at the National are welcome to visit Ragley Hall, including the gardens, café and farm shop. For visitor information, including price details, visit Ragley Hall's website.
About The National
Arrival times
Pitches: Friday and Saturday, 8am until 10pm*. There is an additional fee of £10 for Friday arrivals.
Day visitors: 10am to 11pm Saturday 25 to Monday 27 May (evening entertainment starts at 7:30pm)
* If you arrive at the pitches after 10pm, you can stay in a late night arrivals area and pitch the following morning.
Facilities
Cashback with shop purchases

(

there will be no banking facilities on site)

Toilets / disabled toilets (Village area only)*
Pitches (Electric with 6amps)
Bins for doggie waste disposal
Full waste disposal

Box Office / Information Centre located in the Club Marquee (tickets available to buy here)

On- site shop (selling essentials, including bread, milk and toiletries)
*Mobile toilet facilities are provided within the main central area known as 'The Village' for use when attending the daytime and evening events. They are not available after 11pm.
What else is happening at The National...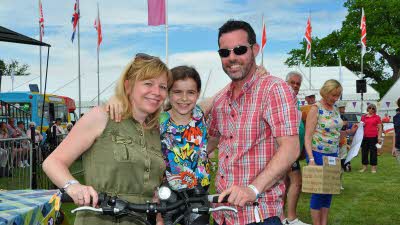 National tickets are on sale now! Join us for the Club's biggest outdoor event of the year.