2023 ICF Canoe Slalom World Championships partners with the Caravan and Motorhome Club
01/06/2023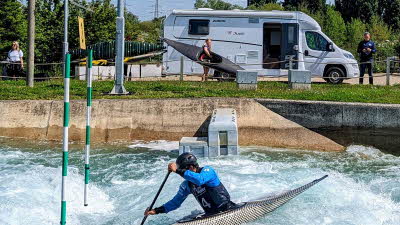 British Canoeing is pleased to announce the Caravan and Motorhome Club as an official partner for the 2023 ICF Canoe Slalom World Championships, taking place at Lee Valley White Water Centre this September.
In a world first for the International Canoe Federation (ICF), these World Championships will see a bespoke pop-up campsite built on venue at the adjacent Showground for visitors and paddling fans to take advantage of, meaning they will be a stone's throw away from the live action as all nations compete for the coveted world titles and Paris 2024 Olympic boat quota spots.
The pop-up campsite will cater for motorhomes, caravans, campervans as well as tents, and will have all the usual high-end facilities as to be expected of a Caravan and Motorhome Club site, with showers, toilets, fresh water and waste disposal, electric hook up and a warm welcome.
The campsite will be the perfect base for spectators, plus, central London is just 30 minutes away by train and easily accessible from Waltham Cross station, just a 15 minute walk from the campsite.
Hosted at the London 2012 Olympic Venue, the 2023 ICF Canoe Slalom World Championships will see around 300 of the world's top athletes head to the Lee Valley White Water Centre to battle it out across a week of high-octane competition at one of the best venues in the world.
With individual and team events in the men's and women's kayak and canoe events, as well as the brand-new Olympic sport of kayak cross making its debut at Paris 2024, there will be something for everyone to enjoy every day across the six-day event in September.
The partnership to the upcoming World Championships extends British Canoeing's relationship with the Caravan and Motorhome Club, having announced the Club as the Accommodation Partner in 2021, offering members with access to some of the best touring sites available in the UK and Europe.
The Caravan and Motorhome Club is Europe's biggest touring community and it provides caravanners, motorhomers, campervanners, campers and glampers access to around 2,700 stunning campsite locations across the UK and Europe.
It has spent over 115 years helping members get the most from the great outdoors offering advice and inspiration to enable people to make their perfect touring holiday. As a membership organisation it also provides quality, value for money products and services to enable holidaymakers to get the most out of their leisure time, building lasting memories, experiences and adventures.
Brian Morgan, Head of Events and Communications at the Caravan and Motorhome Club, said:
"Our pop-up campsites are hugely popular and we're excited to be creating a pop-up campsite at a major global sporting event. We couldn't be more pleased to be supporting the ICF and extending our relationship with British Canoeing.
"As Europe's largest touring Club, we can also add a great travel offer on channel crossings for all competitors, families and spectators staying on the pop-up campsite from continental Europe."
Gemma Wiggs, Head of International Events for British Canoeing, said:
"I'm delighted to see the Caravan and Motorhome Club extend their existing relationship with British Canoeing and partner with the 2023 ICF Canoe Slalom World Championships later in the year.
"The bespoke pop-up campsite offers a unique opportunity for paddling fans and members to stay on the doorstep of a World Championships with the Caravan and Motorhome Club's usual high-end facilities, and be right next to the action as the world's best paddlers battle for titles."
The 2023 ICF Canoe Slalom World Championships is coming to the UK at the iconic Lee Valley White Water Centre from 19-24 September 2023, and tickets are now on sale.
With prices starting from as little as £1 for children, this action packed event has something for all the family to enjoy.
ENDS
For more information please contact:
British Canoeing Media Contact: Jack Carnell Senior PR & Communications Officer jack.carnell@britishcanoeing.org.uk / 07809205413
For press information, interview requests and imagery, please contact Nikki Nichol, external communications and sponsorship manager at the Caravan and Motorhome Club on 01342 336 797 / 07771 834 443 or via email: nikki.nichol@camc.com
Notes to editor
About British Canoeing (www.britishcanoeing.org.uk)
British Canoeing is the national governing body for paddlesports in the UK. Our purpose is to:
Encourage everyone to go paddling: for enjoyment, health, challenge and achievement.
In March 2022 British Canoeing launched Stronger Together 2022-2026, its new strategic plan that will guide the work of the organisation over the next four years through the delivery of 10 key ambitions.
Stronger Together seeks to harness the skills, enthusiasm and commitment of individuals and organisations - including members, clubs and centres, regional development teams, discipline committees, national associations and stakeholders – to build a brighter future for the sport.
The Caravan and Motorhome Club
Champions of the great outdoors – from glamping to touring – the Caravan and Motorhome Club represents the interests of around one million caravan, motorhome, campervan and trailer tent owners across the UK. Founded in 1907, the Caravan and Motorhome Club has a wealth of experience and prides itself on offering great value and high quality campsites for tourers and glampers.
Caravan and Motorhome Club membership is just £59 per year and provides members with access to 2700 quality campsites in the UK and overseas.
For further information about becoming a member of the Caravan and Motorhome Club, please visit www.camc.com.
Experience Freedom from the Caravan and Motorhome Club provides luxury accommodation in some of the most beautiful locations in the UK. Experience Freedom offers a choice of glamping accommodation, motorhome hire and tent camping, all of which are available to non-members. Caravan and Motorhome Club members receive a 10% discount on glamping and 15% discount on motorhome hire.
Experience Freedom is operated by the Caravan and Motorhome Club, a membership organisation with a wealth of experience in operating high quality campsites. To find out more, visit www.experiencefreedom.co.uk