Travelling in Europe after Brexit
Travelling in Europe after Brexit
Will Brexit impact my caravan, motorhome or campervan holiday?
The UK left the EU in January 2020 and will be leaving the EU single market and customs union at the end of the year.
As we've now entered a transition period the good news is that you can continue to travel as you have in the past until at least the end of December 2020.


During the transition period you can travel to Europe in the knowledge that:

British passports will still be valid. There is no requirement to have 6 months remaining on your passport although it does need to be valid for the whole trip.
European Health Insurance Cards (EHIC) will still be valid although we do always recommend that members have suitable travel insurance due to the limitations of EHIC
Visas will not be required
UK driving licences can be used without the need for an International Driving Permit or Green Card for your vehicle insurance
If you have a pet passport, it will still be valid for travel before the end of December 2020
Mobile phone 'surcharge free' roaming regulation should still apply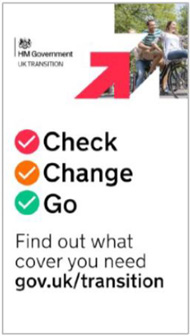 New rules will apply for travel to Europe from January 2021 and you may need to take extra steps when travelling to a European destination.
Different passport validity rules will apply to UK Nationals visiting Europe from January 2021. You must check your passport validity online as you may need to renew it earlier than planned. This does not apply to Ireland. Visit gov.uk/checkpassport
European Health Insurance Cards (EHIC) may not be valid from January 2021. Make sure you get travel insurance that covers your needs, particularly if you have a pre-existing medical condition. Visit GOV.UK to check what your travel insurance should cover.
You may require extra documents to drive in Europe from January 2021
Tourists will not need a visa for short trips to the EU of up to 90 days in any 180 day period. You may need a visa or permit to stay for longer and we recommend checking GOV.UK for more information on how to get a visa or permit.
From January 2021 you will not be able to use your existing pet passport to enter the EU and Pet travel requirements will change
You should follow the UK Government travel advice before you travel abroad, including latest developments and advice on foreign travel during the COVID-19 pandemic. Sign up for alerts at GOV.UK
Mobile phones: From 1 January 2021 surcharge free roaming will no longer be guaranteed when travelling in the EU although the big network providers have said that they have no plans to change their charging structure at the moment. Also, whilst there is a UK government regulation which protects against 'unexpected charges' by setting a limit of £45, above which the phone company needs the customer agreement, we recommend that you check with your network provider before travelling.
Visit gov.uk/transition for the most up to date information