Caravan and Motorhome Club members saved over £161,000 on attraction visits in 2019
17/02/2020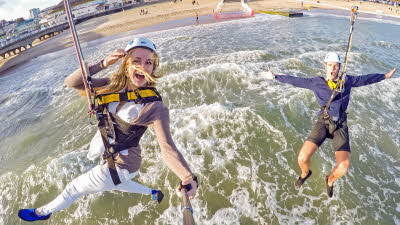 The Caravan and Motorhome Club Great Savings Guide helps members get away their way by offering discounts on top attractions to make their touring holiday even more memorable. In 2019, the guide's discounts saved members more than £161,000 when visiting some of the UK's leading attractions. The Great Savings Guide is one of the many benefits of Club membership, which costs just £54 per year.
The Great Savings Guide has the biggest selection of offers within the membership touring industry, and members save on average £7.55 per attraction. The guide is both a physical A5 booklet and online search tool that provides Club members with savings at over 1,000 leading attractions throughout the UK. The 2020 Great Savings Guide, sponsored by the Club Shop in partnership with Prima Leisure, has introduced 40 new amazing attractions to its roster. The Guide now includes a new 'Food and Drink' category and a new 'Pet-friendly' icon within the listings to indicate spots where four-legged friends are welcome.
The Great Savings Guide has something for everybody, no matter their interests and passions. Split into eight categories, members can choose between:
Animals - a fun-filled day out for all the family! These attractions include farms, aquariums, animal sanctuaries and wildlife attractions
Adventure - exciting days out are guaranteed with adventure parks, theme parks and woodland trials
Tours - from sightseeing buses to river cruises and walking tours, these attractions will help visitors see the best of the local area
Heritage - these attractions are a dream for history buffs - historic houses and castles, gardens and heritage museums are just some of the attractions on offer
Discovery - for those who want to explore the unknown and learn about new things, these attractions will be a great day out. Museums, visitor centres and caves are just some of the fantastic attractions you can visit
Railways - who doesn't love a trip on a steam railway? Plus the guide offers savings on cliff railways, model railways and railway museums
Leisure Activities - golf, fishing, laser games, archery, climbing, zip wires, indoor soft play are just some of the options on offer in this category
Food and Drink - in this new category, tourers will find chain restaurants offering Italian, French, and American classics as well as cafés offering locally sourced produce and tasty treats
All members have to do to redeem the amazing discounts is present their valid membership card and 2020 Great Savings voucher at the attraction of their choice. In some cases, pre-booking is required and/or a discount code all details can be found on the individual attraction listing.
To find out more, visit www.camc.com/greatsavingsguide
For more information on the Caravan and Motorhome Club, please visit www.camc.com
Ends
About the Caravan and Motorhome Club
Champions of the great outdoors – from glamping to touring – the Caravan and Motorhome Club represents the interests of around one million caravan, motorhome, campervan and trailer tent owners across the UK. Founded in 1907, the Caravan and Motorhome Club has a wealth of experience and prides itself on offering great value and high quality campsites for tourers and glampers.
Caravan and Motorhome Club membership is just £54 per year and provides members with access to 2700 quality campsites in the UK and overseas.
The Club offers over 340 campsites across Europe including France, Spain and Germany amongst other destinations. All members can take advantage of expert advice, overseas travel services, great ferry offers, cover and insurance and exclusive member offers and discounts.
The Club offers a choice of glamping accommodation, motorhome hire and tent camping through its Experience Freedom operation, all of which are available to non-members. Caravan and Motorhome Club members receive a 10% discount on glamping and 15% discount on motorhome hire. To find out more about Experience Freedom, visit www.experiencefreedom.co.uk
For further information about becoming a member of the Caravan and Motorhome Club, please visit www.camc.com or call 01342 318 813.
Media Contacts:
For press information and imagery, please contact Molly Downes, Zoe Poulton or Helen Coop at Four Travel: camc@fourcommunications.com / +44(0) 203 697 4200
Nikki Nichol, external communications and sponsorship manager at the Caravan and Motorhome Club is available on 01342 336 797 / 07771 834 443 or via email: nikki.nichol@camc.co