The love affair with campervans continues to grow according to latest research from the Caravan and Motorhome Club
16/10/2018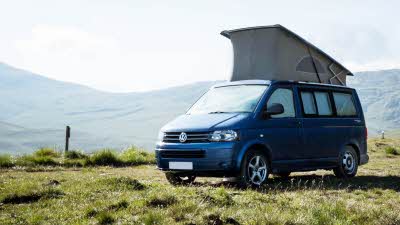 Across Europe annual registrations of new motorhomes have been higher than caravans since 2012; but it doesn't stop there, worldwide Volkswagen campervan sales were up by more than 50% in 2017 and in May 2018, Volkswagen's Hannover factory produced its 100,000th iconic California campervan.
In the UK alone there are around 225,000 motorhomes and campervans in use and Volkswagen campervans of all ages make up around 90,000 of these. Campervan owners love to pamper their vans and many of them give them special names; a recent poll of van owners showed that nearly 10% of them call their vans after someone who they wanted to remember, had left them the money to buy the van or was special in their lives. This was closely followed by owners giving names with 'van' in them such as Frank-en-van, Vanny-de-Vito, Nelson Van Dela and Dick Van Dyke. Other owners used music as their inspiration with Van Morrison featuring highly and then there are travel inspired van names including Skippy (Australia), Syd (Sydney). For those that let their children choose the name, they could end up with Vanny McVanface or the Bat Van!
Half of new members of the Caravan and Motorhome Club are motorhomers, including around 30,000 campervanners. Nick Lomas, Director General of the Caravan and Motorhome Club said: "The chance to have a real break from the normal day to day routine on a holiday that offers spontaneity and adventure is a key reason why campervans have grown so much in popularity; the freedom to jump in the van and take off at a moment's notice is very compelling. Many campervanners are hugely proud of their vehicles and develop a real bond with them, even down to giving their van a name!"
The campervan research helps to dispel the myth that campervans are expensive – over half of respondents spent less than £20000 on their campervan and nearly a third spent under £10000. Just one in eight respondents spent over £45000 and three quarters spent less than £35000.
Nearly half of respondents said they liked to be spontaneous and don't plan their trips but simply jump in the van and head off where the mood takes them, often going to events and festivals. Glastonbury is the most popular music festival to visit in a campervan; offering a civilised alternative to tent camping in a mud bath!
The importance of being spontaneous could be a reason why the research showed that campervanners are more likely than other Club motorhomers/caravanners to travel solo (13%); they are also more likely to travel to meet up with friends.
Kate Thompson, Head of Press and PR at Volkswagen Commercial Vehicles said: "Here at Volkswagen Commercial Vehicles we have seen a huge rise in interest and sales in our campervans. This applies not only to the California which celebrates its 30th birthday this year, but also the all-new Grand California which was unveiled in August. Our worldwide sales show this is a global and not just a UK phenomenon; there's a Cali adventure waiting for everyone!"
Like the rest of the Club members, campervanners are an active bunch; 70% of members like to take part in some activity when away from home and cycling, walking and surfing are their most popular past times. The Club is very well placed to cater for this need for action and offers thousands of sites to choose from – both in the UK and Europe – that are perfectly situated near to beaches, country walks or great cycling routes.