Caravan and Motorhome Club launches Big Little Tent Festival 2020
09/04/2020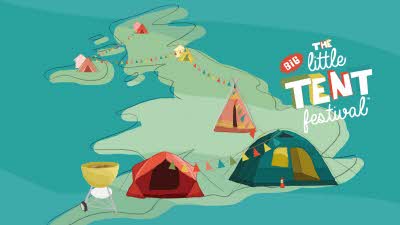 While we're all adapting to a new way of life, it can be difficult to keep the little ones, and sometimes the big ones(!) occupied and entertained. The Caravan and Motorhome Club is offering a solution by encouraging people to take part in two exciting events: The Big Little Tent Festival and the Big Little TeaTime Festival.
Big Little Tent Festival
On Wednesday 15 April treat the kids to a change of scene and spend the night under canvas and camp out in the garden. And while social distancing means that friends and family (apart from those living in the house with you) won't physically be with you, the wonders of technology means everyone can still be together.
Big Little Tent Festival started in 2015 as a way of encouraging people who had never been camping to try it in their back garden with all home comforts close at hand. For the 2020 event the Caravan and Motorhome Club is offering free downloadable festival packs which will include a variety of hints, tips, recipes, bunting, wristbands and flags which will keep the young at heart occupied for weeks to come! When you download a pack you will also be entered into a prize draw for the opportunity to win one of six Cotswold Outdoor tents worth £190 each.
Big Little TeaTime Festival
The Club, which represents nearly one million caravan, motorhome, campervan owners and campers, understands how difficult these times are for everyone. Children aren't currently able to spend precious time with their grandparents and the Club knows that grandparents regularly take grandchildren away caravanning and motorhoming with them.
On Wednesday 1 April, and each Wednesday until mid-May, to help reconnect the generations, there will be a spin-off to the Big Little Tent Festival, the Big Little TeaTime Festival! Grandparents, and all Club members, are being encouraged to have tea in their tents, caravans, motorhomes and campervans that are on their driveways.
While people are enjoying their tea and tent festivals at home, they can connect with each other via video messaging, social media, sharing photos and phone calls. So while they won't actually be with each other, they will be able to connect, share the fun, spend time together and make lasting memories. AND, when people upload their TeaTime fun pictures on camc.com/photowall they will be in with a chance to win a £50 Marks & Spencer Voucher.
Harvey Alexander, Director of Marketing for the Caravan and Motorhome Club said, "At the Club we're passionate about the great outdoors and we hope the Big Little Tent Festival and the Big Little TeaTime Festival will help to bring smiles to people's faces. It's a great opportunity to bring the generations back together using technology to help them reconnect. All the while spending time enjoying the magic of the outdoors and taking part in the hobby they love - caravanning, camping and motorhoming. And it can all be done at home within social distancing guidelines. So whether you're a camping novice or a seasoned camper, join in the fun and have your own Big Little Tent and TeaTime Festivals!"
Fire-up the BBQ, play music, string up the fairy lights, tell stories and inspire the whole family to enjoy the great outdoors. Follow and like Big Little Tent Festival on Facebook, Twitter and Instagram social platforms to make sure you keep up-to-date with all the news, inspiration and fun and don't forget to use #BLTF20 to see how other people are planning and enjoying their festivals. Also, follow and like CandMClub on Facebook, Twitter and Instagram to keep up-to-date with the TeaTime activities.
For more information on the Caravan and Motorhome Club, please visit www.camc.com/bltf
- Ends -